Holdsworth Family History
Holdsworth's Cyclopaedia & Glossary: Events, People, Terms
The mechanism which winds the fabric forward during weaving. Set precisely, it controls the pick density, and hence, the Quality of the cloth. If set too slow, the loom will start Cramming the fabric.
Takemura
The electronic selection mechanism which replaced punched cards on Jacquards and thereby replaced the task previously undertaken by the Card-Stamper .
Taking-in
1. Taking-in (at Holdsworth's) is the name given to the process immediately after weaving the roll of cloth on a loom. The roll is taken to the taking-in station, where it is weighed and measured, checked, marked-up and booked-in. Since 1995 the process has been computer based.

2. The practise of taking yarn and other materials from a putter-out for production of pieces of cloth on a hand-loom.
Taylor, Arthur
Arthur Taylor was the technical manager at John Holdsworth & Co Ltd during the 1970s.
Arthur's wife Margaret Taylor was the senior piece inspector in the finishing department.
One of their sons, Brian Taylor spent his working life with Holdsworths as a loom tuner, and a weaver.
Their other son was a member of a pop music group.
Taylor, Brian
Brian Taylor spent his working life with John Holdsworth & Co Ltd as a loom tuner, and subsequently as a weaver. Son of Arthur and Margaret Taylor who was a senior piece inspector in the finishing department of the Mill.
Married to Betty
Brian also worked with his father Arthur Taylor in County Fermoy in Ireland, during Bill Holdsworth's stewardship of the company.
Tenter
A frame upon which cloth was stretched and dried to avoid shrinkage during drying and to produce a standard shape/size for the finished product. The cloth was fixed to the tenter-frame by means of tenter hooks, which were L-shaped iron nails about 2" long. Many of these were produced by nailmakers in south Yorkshire.

In the 1720s, Daniel Defoe wrote of the area . . .

... almost at every house there was a tenter, and almost on every tenter a piece of cloth ... look which way we would, high to the tops, and low to the bottoms, it was all the same, innumerable houses and tenters, and a white piece upon every tenter
In the 19th century, drying was mechanised with the tenter stove.
Testing, Testing Department
The Testing Department at Shaw Lodge Mills carries out quality control tests on raw materials, processes and goods in production, and also on final product.

The tests on product include:
Abrasion Test - "Martindale" - a standard test which measures wear performance of a textile fabric.
Cover - Testing the appearance of the finished fabric to ensure that the underlying structure is concealed by the Tufts. This can often be adjusted by the degree of Finishing.
Tearing Strength Test.
Bursting Strength Test:- a fabric sample of given diameter is distended until rupture by hydraulic pressure.

The tests on yarn include:
Tensile Strength and Elongation, Twist, Fibre Length, and where dyed, Colour Fastness.

Thompson, Jack
Jack Thompson was head designer at John Holdsworth & Co Ltd up to 1960s.
Jack was in charge of the Drawing Office, later to become named the Design Department at Shaw Lodge Mills.

Titterington, Alan, M.A.
Alan Titterington started his career in the Design Department at John Holdsworth & Co Ltd.
Alan joined the company in 1958 directly from Heath Grammar School. Alan was taken on when Eddie Chapman retired and took over his design board.
Rodney Hirst followed Alan from Heath Grammar School - taking over the desk of Richard (Dick) Eatough, a talented designer who emigrated with his family to Australia (approx. 1960).
Alan left Holdsworth in 1962 to join a competitor, Messrs. B. Wood & Sons (Ireland) Ltd, the moquette weavers in Birr, Ireland, (later to be renamed Birr Fabrics, and eventually to be bought from the liquidator by Holdsworths in 1992 and renamed Shannon Velours Ltd.)
We managed to contact Alan in 2003, and he provided this:-
"Walter Swale the headmaster arranged the interview with Isaac Jennings and I was offered and took a job. I still have my original and leaving weekly pay packets .....£3 7s 1d in August 1958 and exactly the same in August 1962! .....no inflation in those days!
"David Hockney was at Bradford College of Art during mine, and Rodney's time there.
"Birr was my chance to earn money as head designer/colourist in Ireland, and send some back to my mother in Halifax. I was paid the huge sum of £20 a week - a thousand a year! - equivalent to a doctor or solicitor in those days. My hotel bill in Ireland was £4 a week for 7 days full board leaving too much money for a young lad of 20 to waste away on pints of Guinness, Hunt Balls and the privileged life!
"I too incidentally, like Rodney Hirst, had been to an interview at Firth's Fabrics at Flush Mills in Heckmondwike just prior to Ireland - for I needed to seriously earn more money for the family unit (changing employment was the only way in those days and in no way reflected on my happy times at Shaw Lodge Mills. I didn't get the job though the same Holdsworth portfolio worked with the Board six months later in Ireland; Lord Rosse was the chairman and Ernest Wood the MD (who wanted me to run the company when he retired in '5 year's time'!).
"Anyway the rest is history...I married in Birr (in 1965 - 4 children) to my wife Noreen and came back to work at Crossley Carpets.
"So that put me firmly on the management team at Dean Clough and the subsequent rise to a Directorship and on to owning my own businesses.
"Leslie Eastwood, the designer at Birr, married Olive Wood who taught at the Oxmantown School and was my girlfriend prior to me marrying Noreen. I kept in touch during family visits for many years.
"Albert Wood in design had his own very successful professional danceband, The Woodchoppers. Evelyn in design was his permanent vocalist (she was fantastic) and I did guest vocals as... Alan Adele and the Woodchoppers."
Alan's great-great grandmother was Mary Holdsworth (1812-1892) born in Shibden and christened at Halifax Parish Church married John Titterington. The Titterington family at that time were extremely wealthy textile producers in the Calder Valley (Sowerby, Midgley and Luddenden) and Eli Titterington (John's father) also had rooms at the Piece Hall for trading cloth (they were STUFF AND SHALLOON MAKERS).
Mary's portrait, hangs in Alan's home and was painted by their friend Branwell Bronte. (From June 1838 to May 1839 Branwell, fourth child of the six Bronte children, was working as a portrait painter in Bradford).
Tower Clock (Turret Clock)
At John Holdsworth & Co Ltd, we have a turret clock, which is located in the tower adjacent to the mill yard on Shaw Lane.
We have little information on this clock. It's marked "MARSHALLS. HALEYHILL. HALIFAX. 1846"
The clock has four faces, with cast iron dials and a bell which strikes the hour.
The clock movement and faces were refurbished in 1998 by horologist MJ Weatherill.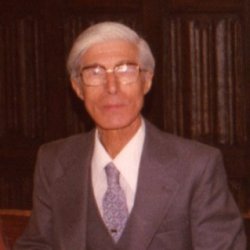 Walter Townend, 1978
Townend, Walter
Walter Townend, born in Halifax, joined John Holdsworth & Co Ltd directly from school in 1932.
Walter's mother Rachel Townend worked in the business as a twisting operative, and he had a sister Jean Townend, who married Alf.
Walter spent the whole of his working life with John Holdsworth & Co Ltd and in his early years was a player in the company's football team, which were the Shay Workshop Competition, Winners 1933.
Walter became manager of the Weaving Department in 1939.
Walter was appointed production director in 1962, and managing director in 1969, a position he held until reaching his retirement in March 1979.
He was succeeded by J Michael Holdsworth.
Married to May, with a son Richard, and daughter Janet, Walter was a past president of Halifax Textile Society and an Associate of the Textile Institute.


Here's an article which appeared in the local newspaper, The Halifax Courier, on 21 July 2008 regarding Richard Townend's family.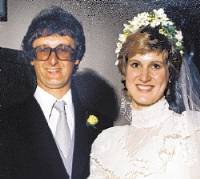 Richard and Sue Townend 1983
Sue and Richard Townend, of Central Park, Halifax, are celebrating 25 years of marriage at the same time Sue's mum and dad mark their golden wedding anniversary on Wednesday.
"It's really nice. I've been really excited about this day for the last year," said Mrs Townend, 47.
Sue's mum, Pat Francis, 70, who married David, 77, 50 years ago, said: "We were really pleased when they told us they were getting married on our wedding anniversary.
"I remember Sue saying that when she was celebrating her silver wedding we'd be celebrating our golden. It seems years ago now."
Mr and Mrs Francis's neice also shares the same wedding anniversary but will not be joining the celebrations because she is on holiday.
Mr and Mrs Francis met at Thornton Methodist Church, Bradford, where they were both members of the congregation.
Their first date was a walking trip to Ingleborough.
They were married at the church by Mrs Francis's grandfather, a methodist minister, and still live in their first house in Thornton.
Mr Francis was a civil engineer for Bradford Council. Before she was married Mrs Francis worked for an estate agent. They have three children - Sue and her brothers Peter and Simon - and five grandchildren.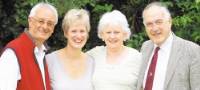 Richard and Sue, Pat and David Townend 2008

Mrs Townend met husband Richard, 63, on a night out in Bradford and they were regulars at the Murgatroyd Arms in Skircoat Green, Halifax.
They married at Trinity Methodist Church, Bradford, and also still live in their first house.
The couple have a son - Henry, and a daughter - Sophia.
Mr Townend was a teacher. He was head of languages at Benton Park School, Leeds.
Mrs Townend is a midwife working across Calderdale.

Now married to Chris MacMillan, Catherine MacMillan, has kindly contributed information and made corrections regarding her grandfather's family details above; in November 2008.
Tube
A Yarn Tube is a spindle onto which the yarn is wound to form a Bobbin, which is required to be placed on the creel for weaving in a Jacquard loom. They were traditionally made from hard paper, which distorted with age and became easily damaged with moisture or oil. Nowadays tubes are used made from plastic, which do not require replacement and can be re-used continuously.
A Piece Tube is a cardboard tube onto which a roll of cloth (or Piece) is wound ready for despatch.
Tuft
A Tuft is the U- or W-shaped length of yarn which forms the pile in a pile fabric.
Turney, Hannah Judith
Hannah Judith Turney, daughter of Thomas Turney of Ovenden Lodge (or Park Lodge, Ovenden).
She married George Holdsworth at Halifax Parish Church on 25th January 1848.

William Turney, (born in 1757, died 1799) from Sedgbrook, Lincolnshire, lived in London with his wife Judith Bates, the daughter of Thomas Bates of Halifax, whom he married on 22nd August 1793 at Halifax Parish Church. (Judith Bates was baptised on 6th November 1768 in Halifax, and died in 1802.)
They had three known sons; William, Thomas and John.
William Turney died as a young child and was buried 20th May 1806 in St. Lawrence's Church, Sedgbrook.
Thomas Turney was born in London (ca.1797), and on 26th July 1819 married Hannah Watkinson, daughter of John Watkinson of Moorside, Ovenden, went to London by coach for their honeymoon and on their return the Parish Church bells rang all day. Thomas and Hannah had 10 or so children; the third being Hannah Judith, baptised 28th June 1821.
John Turney, Thomas Turney's brother, (born 1800 in Stockwell, Surrey) married Elizabeth Watkinson, Hannah's sister on 25th October 1826 in Clapham, Yorkshire.
They all worked in the firm Turney and Bates, at one time known as Turney, Bates and Bates, Woollen Manufacturers, and Worsted Spinners and Staplers who were in existence in 1781 in Halifax. (Bailey's Northern Directory, 1781, W. Bailey.) The company is listed as Thomas and John Turney of Haley Hill, Halifax. (Pigot's directory of Yorkshire, 1830, J. Pigot.) Thomas carried on the business until at least 1874 (Smith's directory of Halifax, 1874, F. Smith.)
Hannah and her sister Elizabeth had been baptised at Saint Mary's Church, Illingworth, and the Turneys are buried there.

The reason that Thomas and John Turney came to Halifax:- Their father William Turney died aged 44 in 1799, followed by Judith (nee Bates), their mother (from Halifax) in 1802. They were all then in London where William had a Hosiery business. On Judith's death her executors were her father Thomas Bates and her brother William Bates. The boys were brought up to Halifax, most probably to be under the wing of their Grandparents and her brother. Hence they then went into the same business.
Details provided by Elizabeth Turney Hampson, 2002
elizabeth.hampson@tiscali.com
Twist, Twisting
Twist is the condition given to a yarn by rotation of the fibres or filaments along its length.
The Twist Level is measured in turns per unit length of the yarn.
The Twist Liveliness is the tendency (after Twisting) of the yarn to untwist. This is reduced by setting the yarn in an Autoclave. Yarns with a high level of Twist Liveliness can be used to create effects in fabrics, however at Holdsworth's it is reduced to a minimal level to reduce the tendency of the yarn to snarl in the loom, and so increase weaving efficiency.
Folding is the process in which twist is applied to the yarn.
False-Twisting is the process in which twist is applied alternately in one direction and then the other direction to the yarn, so that there is no net twist inserted. An example of this is the REPCO process.
In Holdsworth's yarn has been folded using two-for-one twisting since the spinning department closed in 1979. This is a system which inserts two turns of twist in the yarn for each turn of the guide; however it involves a previous winding process, Assembly Winding. The machines were supplied by Volkmann in Germany.
Twist-in, Twisting-in
In weaving, the manual operation of twisting together the ends of a new warp with the ends of the old warp. This operation has become obsolete as warps are tied in nowadays using Warp Knotting machines.