Holdsworth Family History
Holdsworth's Cyclopaedia & Glossary: Events, People, Terms
A mechanism used on an automatic loom from which the shuttle is loaded with a fresh pirn of weft without stopping the loom.
Usually known as the Northrop Automatic Pirn Changer mechanism, it was invented by J.H. Northrop, a Yorkshireman from Keighley, in 1886.
Mail, (Harness Mail, Heald Mail)
A Mail is a shaped wire or flat steel strip with an eye in the centre through which a warp yarn is threaded. Its movement can then be controlled during weaving by selecting the position of the harness cord by the Jacquard, or the Heald Shaft.
Marl
To run together two or more worsted yarns of differing colour to form a single mottled thread.
Martindale Test
See Testing.
Mayor
Head of the local government (City, Town or Borough.) See the List of Mayors of Halifax and Calderdale.
McCrea, Henry Charles
[1810-1901] An Irishman, Mr. Henry Charles McCrea moved to Halifax in 1834, where he entered into partnership with Mr. John Holdsworth.
For a time, he lived at Shay Mansion and then at Warley House. He worked in the family damask and worsted spinning business.
He must also take credit for the first electric tramway in England at Blackpool, when he obtained the concession from the Corporation there for another Halifax man, Mr. Holroyd Smith, to institute the tramway system there.
He was a Mayor of Halifax [1859] and a benefactor whose daughter gave money - and his name - to a ward at the Royal Halifax Infirmary. He spent a part of his wealth on the development of Blackpool.
A.S.McCrea was his youngest son.
Mending, Mending Department
Mending involves the insertion of yarn into a woven fabric where the Warp, Weft or Pile has broken and is missing and the correction of other machine faults by means of needlework. This is a skilled manual operation.
The Mending Department is the section where woven fabric is booked-in, followed by several finishing processes including weighing, measuring, burling mending, cleaning, steaming, cropping, back-coating and inspecting.

Managers in this area have been.....
Cecil Thomas, Arthur Thorpe,
Peter Hepworth,
Dickie Bowers,
John Nuttall 1981-1993,
Kevin Wilman 1993-1998, Malcolm Sutcliffe 1998-2004,
Gareth Charles 2004, Malcolm Nutton 2005-2008.
Metre, Meter
The most important SI Unit is that of length: one metre was defined to be equal to 1/10 000 000th of the distance from the pole to the equator along the meridian through Paris. This is approximately 10% longer than one yard. Later on, a platinum rod with a rigid, X-shaped cross section was produced to serve as the easy-to-check standard for one metre's length. However, due to the difficulty of actually measuring the length of a meridian quadrant in the 18th century, the first platinum prototype was short by 0.2 millimetres. More recently, the metre was redefined as a certain multiple of a specific radiation wavelength, and currently it is defined as the distance travelled by light in a vacuum in a specific period of time.

Middle Pasture, Halifax
Middle Pasture, the residence of David William Holdsworth, is a property situated in Heath Lane to the north-west of Huddersfield Road, directly opposite Spring Hall, in Skircoat, Halifax.
Originally part of Heath Farm which is mentioned in the will dated June 1855 of John Holdsworth (Founder of John Holdsworth & Co Ltd), and in an indenture made on 19 Feb 1870 between parties including William Irving Holdsworth of Greenroyde, Tom Holdsworth of Spring Hall, John Holdsworth of Willow Field and Sarah Holdsworth.
The house was built in 1926 by E & T. Bower Ltd of Rookery Lane, Halifax for E.A. Steele Esq. Architects were Messrs. Glendinning and Hanson, Halifax.
Midgley, David
David Midgley joined John Holdsworth & Co Ltd in 1998 as Production Manager in charge of the Weaving Department, having previously worked in the non-woven textile industry. Within two years he had overall responsibility for all manufacturing departments, and the quality assurance system. He left the company in March 2002.
Migration
The movement of a substance from one part of a textile material to another. e.g. dye, pigment.
Fibre Migration - the movement in the position of a fibre relative to the axis within a yarn. e.g. A fibre may migrate from the core to the surface of a yarn.
Mildew
A growth of fungi on textile material, usually appearing when the material has been stored in damp un-ventialted conditions. Mildew causes discoloration, dye variation and weakening of the material.

Set of UK postage stamps celebrating Mill Towns 1999
Mill
A mill, historically is an name for a water-mill or wind-mill. It can also be used to describe a machine powered by this means, or a flour-mill used for grinding corn. Today the word Mill is also used to describe a textile mill, which is a factory or business involved in the manufacture of textiles.
Mill Engine (Steam Engine)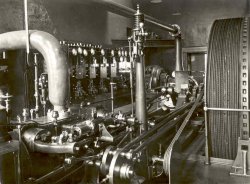 Steam Engine No.2, Shaw Lodge Mills
Textile Mills, including Shaw Lodge Mills, received their power from steam engines during the eighteenth and early nineteenth century. Later, the mills were converted to to take motive power from electricity, (I think this was in the 1920's in our case), still using much of the power transmission equipment, belts and shafts, which was already in place. Even more recently, in the late twenty-first century we continued to use some vintage belt-driven equipment, such as lathes, and engineering tools, with the belts driven by electric motors.
There were several mill engines at John Holdsworth & Co Ltd.
Arthur S. Roberts of Leeds, describes amongst his records from the 1950s and 1960s, one single horizontal cylinder example at Shaw Lodge Mills, No.2 which was made by Pollit & Wigzell of Sowerby Bridge in 1900. Some of the mill engines were named after the daughters of Clement Holdsworth.
'Constance', after Constance Gertrude Holdsworth, 1880-1955, the eldest daughter.
'Kathleen', after Kathleen Marian Holdsworth, 1882-1946, second daughter.
And 'Gwen', after Florence Gwendoline Holdsworth, 1892-1928, third daughter.
Arthur S. Roberts also describes a number of other mill engines at our mill, details of which are given on our mill engines page, on the link below.
For further information, visit our page on Mill Engines.
Missing Pick (Fabric Defect)
The unintentional omission of one complete length of weft thread across the full width of the cloth. The fault appears as a narrow crack.
Monkey Chain
A chain device which enables a Leno Motion to be placed at any position across the width of the fabric when weaving. This is to bind the edge of the fabric and prevent it fraying after weaving. Most often used in order to separate the two pieces when weaving a Split-up fabric on Wire-Loom.
Moquette
Moquette is a textile woven in the same manner as velvet (with cut or uncut pile) from coarse wool and linen yarns, usually for upholstery or carpeting. By introducing rods (wires) during weaving, the thread is raised in loops to form fabrics which are particularly hard wearing and resilient. Moquette was made from the Middle Ages onwards in many parts of Europe, notably the Low Countries. The term is now used to include Brussels and Wilton carpets. Woven on the Wilton weaving principle, Moquette can be made on either Wire-Looms or Face-to-Face Looms.


Moquette Manufacturers' Association
Holdsworth's became a founding member of the Moquette Manufacturers' Association with three other firms, Dalton Barton & Co Ltd, London, John A Wood Ltd, Manchester, and J Perkins & Son (1909) Ltd, Coventry. The details for this body are somewhat sketchy but it was based in Coventry and represented the interests of the makers of moquettes and similar wire loom goods other than carpets. The Association's rules show that it was set up for two main purposes. First, to promote co-operation between moquette manufacturers and eliminate any conflict between them as far as possible. Second, to regulate the cost and recruitment of labour. Rule 15 specified that 'The Association shall consider and settle the question of piece and time workers' rates from time to time with a view to securing uniformity in the trade'. Members had to submit their current wage rates to the Association and had to obtain approval from the Association before any alterations were made to them. As far as strikes and lock-outs were concerned, members were forbidden to take on labour from the firm affected until the dispute had been settled.
The introduction in the United Kingdom of the 1956 Restrictive Trade Practices Act led to the registration and subsequent abolition of explicit restrictive agreements between firms and the intensification of price competition across a range of manufacturing industries.
According to "The Effects of Competition: Cartel Policy and the Evolution of Strategy and Structure in British Industry" by George Symeonidis, The Moquette Manufacturers' Association fixed the prices of moquettes for the railways until 1959 (R590)
Mullucks
A Mullucks, spelling may vary, is what happens when the Shuttle flies out of or gets jammed in the cloth in a loom during weaving. This invariable ends up with a hole in the piece, and a great number of broken ends in the loom. More often than not, it would also cause some damege to the loom, and break or bend the Reed.