Holdsworth Family History
Holdsworth's Cyclopaedia & Glossary: Events, People, Terms
The Kelvin is one of the SI Units, the 7 base units of measurement. A scale that measures an object's temperature over absolute zero, the theoretical coolest temperature where all molecular and atomic motion ceases. On the Kelvin scale, the freezing point of water is 273. (273 K = 0°Centigrade = 32°Farenheit).
For everyday applications, it is often convenient to use the Celsius scale, in which 0°C corresponds to the temperature at which water freezes and 100°C corresponds to the boiling point of water at sea level.
In this scale a temperature difference of 1 degree is the same as a 1 K temperature difference, so the scale is essentially the same as the Kelvin scale, but offset by the temperature at which water freezes (273.15 K).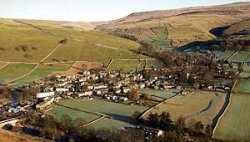 Kettlewell
Kettlewell, village in Yorkshire
Kettlewell is a village in Wharfedale, the heart of the Yorkshire Dales.
Just outside the village lies Scargill House the residence of the Holdsworth family until 1957.

The Holdsworth family grew strong links to Saint Mary's Church, Kettlewell not only through regular attendance, but also through family events.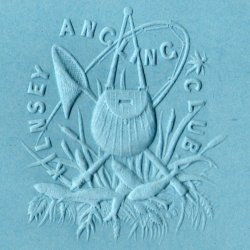 Kilnsey Angling Club, Founded in 1840
Kilnsey Angling Club
Clement [1855-1920], George [1879-1942] and William Holdsworth [1922-1969] were key members of Kilnsey Angling Club, which was founded in 1840.
In an agreement drawn up on 22nd June 1922, George Bertram Holdsworth leased the right to club members to take away fish caught with rod and line in a sportsmanlike manner in his portions of the River Wharfe in the townships of Kettlewell and Conistone-with-Kilnsey, considered one of the best Trouting streams in Yorkshire, for the annual fee of £10.0.0.
George B Holdsworth's fellow signatories were:
H E Dewhirst (club secretary 1908-27).
Dewhirst was a stuff merchant, worsted spinner and manufacturer based in Bradford, and like many he lived in Harrogate in later life.
Sir Frederic Aykroyd (Member 1913-1929).
Born into a family of Bradford dyers and cotton sizers, Frederic Alfred Aykroyd was in business as a wool merchant aged 27. He joined the Roberts family when he married Lily May Roberts, Sir James Roberts' daughter, in 1902. He was very active in club affairs, acting as chairman at all meetings from 1919 to 1927. He was President of Bradford Chamber of Commerce, High Sheriff of Yorkshire 1929. He was chairman of F A Aykroyd & Co and other businesses. Was a member of Leeds University Court and on the appointments board of Cambridge University. He lived in Ilkley and in later life at Birstwith Hall, Harrogate.
John C Marshall (Member 1893-1944, club treasurer from 1912-1924)
Marshall resigned 'because of his years'. Much respected, known in later life as the father of the club, he was made an honorary member in 1927. He started work aged fourteen in 1862 and worked his way through the wool trade, eventually setting up in business with a partner in Firth and Marshall Ltd from where he retired in 1916.
Information on KAC kindly provided by Michael Hodgson, who is currently in the process of writing the history of the Kilnsey Angling Club. Apr 2009
The membership of KAC in early years had representatives from many important textile-trade families.
Documents from the KAC file that I have scanned to .pdf files: 1922 Agreement, 1948, 1949, 1950, 1951, 1952, 1953, 1954, 1955, 1956, 1957
---
In an illstrated book published by MacMillan in 1898 entitled "Harry Druidale Fisherman from Manxland to England", by Henry Cadman, then late president of the Yorkshire Anglers' Association, the third chapter is devoted to the River Wharfe Kilnsey. This includes the following topics:
CHAPTER III THE WHARFE, KILNSEY, Pages 20-26; with an illustration facing page 20.
Origin of club - Mr. J. R. Tennant - Journey to Kilnsey - Rylstone - Cracoe - Threshfield - Netherside Hall - Arrival at Kilnsey -
Antiquity of Kilnsey - The club - room - Mr. Thompson - Mr. Gleadhall -
Worm-fishing looked down upon - My first trout at Kilnsey - The farm-house - Nutting. The illustrations are from photographs taken by Charles Herbert Cadman, Henry Cadman's son, b.1879
---

Historical information kindly provided by InHeritage; written by Sonia Wilkinson, present owner of Kilnsey Old Hall.
Tim and Sonia Wilkinson offer bed and breakfast at The Old Hall and guests dine in the beautiful dining hall in view of the huge inglenook fireplace. Guests can enjoy the beauty of the hall and the surrounding limestone dales and bathe in the history of this courageous house.
In 1132 a group of Cistercian Monks, known as the white monks because of their long white woollen robes, founded Fountains Abbey on the river Skell near Ripon, North Yorkshire.
Soon after their arrival pockets of land in the Yorkshire Dales were gifted to their monastery. This land came from several sources but usually wealthy aristocratic families who asked that the monks pray for them and their families, both alive and dead.
At this time it was a commonly held belief that purgatory, the passage from life to death, could be made easier with prayers and indeed the monks could offer this service to anyone who offered something of value to their community.
Over time the monks of Fountains Abbey acquired over a million acres of high ground in the Yorkshire Dales, and this was used to rear sheep and produce wool.
In order to manage so many sheep over such a large area the monks set up a monastic farm. Kilnsey was close to the main route from the north through to Ripon, was central within the million acres and was therefore chosen as the site for the centre of main management. There was a hall, two gatehouses, a chapel, a courthouse, a brewhouse a bakehouse, two barns, a hostel, two mills, drying kilns and a lime slaking kiln. There were stewponds for keeping fish close by, in other words everything required to provide for a lively thriving community at Kilnsey.
The monks' fishponds are now used by Kilnsey Angling Club to breed trout to restock the river Wharfe providing some of the finest river trout fishing in the country. 'Kilnsey Park' is a working trout farm and visitors can watch the stages from the baby trout in the top raceway until they reach maturity - then feed the giant trout! Seated below the Kilnsey Crag are two fly fishing lakes providing good sport for fishermen & women.
Kilo, Kilogramme, Kilogram (kg)
Kilo, mega, giga, tera, and peta are among the list of prefixes that are used to denote the quantity of something, such as, in computing and telecommunications, a byte or a bit. Sometimes called prefix multipliers, these prefixes are also used in electronics and physics. Each multiplier consists of a one-letter abbreviation and the prefix that it stands for.
The kilogram or kilogramme, (symbol: kg) is the SI Unit of mass. A gram is defined as one thousandth of a kilogram. The kilogram is the only one of the SI Units which is still defined in relation to an artifact rather than to fundamental physical properties. It is also the only base unit that employs one of the prefixes.
This was defined as the mass of distilled pure water at its densest (+3.98 degrees Celsius) contained inside a cube having sides equal to 1/10th of a metre. One kilogram is about 2.2 pounds.
Knot, Knotting Machine
Tying a knot is a method of joining two ends of threads together to form a continuous length; this can be performed by hand. In yarn processing today, many activities are carried out by machines which can perform automatic knotting if a thread breaks, or when starting a new input package. In Weaving there are Knotting Machines designed solely to knot threads together, as in Warp Knotting Machines.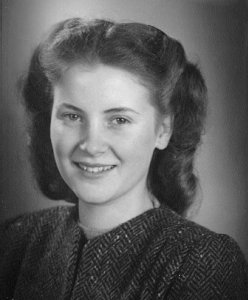 Dina Maria Kuperus, 1946
Kuperus, Didian Maria (Dina Maria or Didy)
Born 16th June 1927, the daughter of Jacob Kuperus and Wilhelmina Kuperus-Mortier of Amsterdam, and elder sister to Rudy Kuperus.
Both the parents died in 1975.
Jacob (Jack) Kuperus was son of Jacob Kuperus and Maria (who died in 1931) whose roots were in Steggarda in Holland.
Jacob junior, was in the Dutch navy; his ship was bombed and he was picked up by a British frigate. He later became a tutor at the Naval Academy in Den Helder. He had two brothers Rein and Wim.
Rein Kuperus was a diamond cutter of the highest class, living in Asscher.
Wim Kuperus lived outside Amsterdam in Schiphol on the Amstel river.
He was born in Den Helder on 5 Sept 1933, and was an academic person, but was paralysed with polio in 1937.
He lived for four years of the war, and ten years afterwards at 38 2nd Helmerstraat, Amsterdam.
Following this, Jacob and Wilhelmina Kuperus lived at 2 Helmerstraat, 28 in Amsterdam, and later (circa 1970) moved to a purpose-built flat in a block on Nachtwachlaan 69, in north Amsterdam overlooking the E10 motorway, where they remained until their deaths a few days apart in 1975.
Dina Maria Kuperus married William (Bill) Holdsworth in 1946 they had five children, John Michael 1947, Ingrid Rona 1948, Howard Irving 1949, David William 1952 and Kirsten Roselyn 1953.
For later details, please see Dina Maria Holdsworth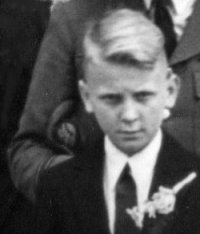 Rudy Kuperus, 1946
Kuperus, Rudy (Ruud)
Rudy Kuperus, Born 5th September 1933, the son of Jacob Kuperus and Wilhelmina Kuperus-Mortier of Amsterdam, and younger brother to Dina Maria Kuperus.
Both the parents died in 1975.
Rudy Kuperus married Marijke Suurenbroek, and they had two children:
1. Barend J Kuperus
2. Janine Kuperus
They lived at Churchill-Laan 31a in Amsterdam.