Holdsworth Family History
Holdsworth's Cyclopaedia & Glossary: Events, People, Terms
An upright J- shaped container for textile fabric during a continuous process, allows for compensation of slight variation in speeds between different zones in the process.
Jackson, Herbert R
Herbert R Jackson, was company secretary of John Holdsworth & Company Ltd.
Mr Jackson looked after the company's administrative and financial affairs, and was appointed to the board in 1928.

Joseph-Marie Jacquard
1752 - 1834
Jacquard
A patterning mechanism which gave individual control of warp threads on a loom, which evolved through the Industrial Revolution, to the information age of the twentieth century and the billions of desktop computers in use today.

Arguably the first digital processor or programmable device, Joseph-Marie Jacquard's inspiration of 1804 revolutionised patterned textile weaving, with a 25-fold increase in production speeds. His device used punched cards to select which threads lifted over the weft during weaving in order to control the shed and thus make a pattern. The cards were fed into the control unit sequentially at each pass of the shuttle, thus providing fine, detailed, repeatable control of the woven pattern. For the first time, fabrics with big, fancy designs could be woven automatically by one man working without assistants. Working in Lyon, France, Jacquard had created his machine by combining two earlier French inventors' ideas: he applied Jean Falcon's chain of punched cards to the 1745 cylinder mechanism (think music-box) of Jacques de Vaucanson. Then he mounted his device on top of a treadle-operated loom.

Hand Loom
with Jacquard
His idea stemmed from the events of his life. His parents both worked in the weaving trade and at the age of ten, Jacquard began working as a drawboy. The job of a drawboy was the least glamorous in the weaving business; he sat inside a loom to lift and replace various threads according to the master weaver's instructions. Then when the shuttle pulled the thread through, it only showed where the master weaver desired. In this manner designs were created. Because of his experiences working as a drawboy, in later life, Jacquard became obsessed with eliminating the tedious function of the drawboy in silk manufacturing.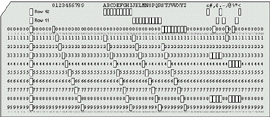 Punched Computer Card, 80 Column Format. 1970's
The Jacquard loom was thus one of the very first machines to execute a stored program, and was the earliest use of punched cards programmed to control a manufacturing process.
Although he created his mechanism to aid the local silk industry, it was soon applied to cotton, wool, and linen weaving.
More often nowadays, these cards are seen playing the music on fair-ground organs and pianolas.
The Jacquard control mechanism was later adopted both by Babbage to control the Analytical engine, and by Holerith to record the United States census.
The punch cards later used to control the early IBM computers were a direct descendent of Holerith's cards.
Thus Jacquard's control mechanism was extremely influential in the development of modern computing.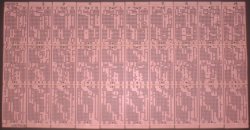 Punched Jacquard Card, June 2000
The development of modern data processing systems in the 1960s and 1970s made it possible for one punched card system to compute, control and perform other tasks never imagined by 19th century inventors.
These were to some extent superseded by rolls of punched paper tape.
Contemporary computer systems that use digital processing, although working on precisely the same principle, make these punched card devices obsolete.

Mechanical jacquards have been in use on the looms in John Holdsworth & Co Ltd since the early 19th century. These jacquards are now obsolete, althugh there were still over 20 mechanical jacquards in daily use which read from punched cards until the year 2000. The cards were being produced withing the company's Card Cutting Department.
All of the jacquards in use nowadays however, are fully electronic, with some mechanical jacquards fitted with electronic selection systems, supplied by Takemura in Japan, and these are digitally linked to the designers' CAD systems, which enable them to see their creations almost instantly.
Jacquard Harness
Jacquard cords used for forming a Shed. Tied onto the hooks of the Jacquard, the harness cord passes through the Heck then the Comber Board onto the Harness Mails from which hang the Lingoes.
Harness Cord or Harness Band was traditionally made from Flax due to its resistance to stretching, however man-made yarns like Polyester are used nowadays.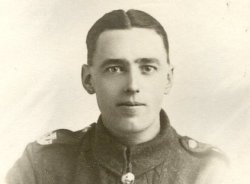 Ernest Edgar Jennings
Jennings, Cpl. Ernest Edgar
[1891-1918] Worked in John Holdsworth & Co Ltd as personal assistant to the chairman and managing director Mr. Clement Holdsworth.
He was killed at the age of 27 whilst on active service with the Duke of Wellington's Regiment on 8 Nov 1918 in France at Cambrai, scene of one of the great battles of the Somme.
Son of George and Susan Jennings of 29 Gladstone View, Siddal, Halifax. Eldest brother of Clement, John and Isaac Jennings.
Armistice had been declared, and his mother Susan was awaiting his return from the War, when instead she received a telegram, informing her of her son's death.
Jennings, Ernest Edmund (EE)
Ernest Edmund Jennings ATI AMBIM FIWM, the son of Isaac Jennings (Head of Design at Holdsworth's) and godson of Edmund (Eddie) Chapman his predecessor. Ernest was unable to serve in the forces, so he started work at confectioners John Mackinstosh & Sons Limited (most famous for their Quality Street brand) in the office. Rationing was in place and there was no advertising allowed so Ernest worked on advertisements to be used after the war. One of his creations that lasted many years was the advertisement for the packet of sweets "Rolo", which showed one of the sweets rolling out. Ernest transferred a short walk to start at textile manufacturers John Holdsworth & Co Ltd when he was 16 years old in the Card Cutting Department. When there was not enough work to keep him employed, he would help his father Isaac Jennings out in the Design Department.
After the war, Ernest went to work in Luddenden Foot, then at Norman Scarchard's in Ossett, in Northern Ireland, and finally spending 35 years at William Eddleston's in Sowerby Bridge, manufacturing scarves and rugs. He started there as Mill Manager and Designer, and left as Technical Director. Two years later it closed down.
Ernest was an active member of Halifax Textile Society like his father before him, being chairman 1971-73, president 1976-78 and chairman once again 1999-2001.
Ernest married Mary, lived in retirement at Whiney Field, Halifax, and he passed away on 27th December 2014 aged 88 years leaving son Adrian and daughter Alison. Adrian continued the family tradition, and became president of the Halifax Textile Society. Adrian is sales manager of oil manufacturers Benjamin Vickers and Sons Ltd, Leeds.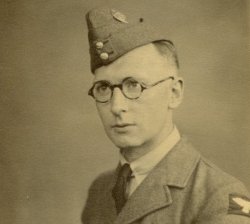 Isaac Jennings
Jennings, Isaac
[1907-1964] Born on 22 April 1907, Isaac Jennings joined John Holdsworth & Co Ltd in 1921 at the age of 14.
He served in the RAF during the Second World War. He then returned to the mill and became head designer and colorist in the design department, taking over from Edmund (Eddie) Chapman.
He was an active member of the Halifax Textile Society until his death.
He was also a prominent worker and official at Saint Mark's Church, Siddal.
He married Alice, who was a mender at the mill for many years, and he was father of Christine Elizabeth, and Ernest Edmund Jennings and he was brother of Ernest Edgar Jennings.
Isaac died on 4 January 1964 at the age of 56, and a record is kept of the large number of friends and representatives at the funeral service, held at St. Mark's, Siddal.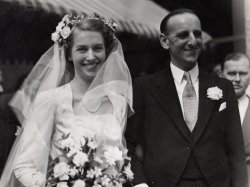 Pauline and Brian Johnston, 22 April 1948
Johnston, Brian; Major, CBE, MC

[24 June 1912 - 5 January 1994] Brian Johnston, godfather to Kirsten Holdsworth.
Born in Little Berkhamsted, Hertfordshire, he was educated at Eton and New College, Oxford. On 27 August 1922 his father drowned at Bude, Cornwall at the age of 44. Brian's grandfather was governor of the Bank of England between 1908 and 1913. The World War II airborne division commander Frederick 'Boy' Browning was his first cousin.
He obtained a fourth-class degree in History in 1933 and he then joined the family's coffee business, where he worked until the outbreak of the war. During the 1930s, he was posted to Brazil but admitted years later that he had little liking or enjoyment of the work. He wanted to be an actor originally. When war was declared in 1939 Johnston joined the 2nd Battalion Grenadier Guards, where he served as a Technical Adjutant and was awarded the Military Cross in 1945.
Brian joined the BBC after the war and worked on live radio broadcasts from theatres and music halls.
He was one of the first broadcasters to work both for television and radio and began his long association with cricket commentary in the summer of 1946.
From 1946 until the end of the sixties he covered televised test matches, and the funeral of King George VI, the Coronation of Elizabeth II and Princess Margaret's wedding.
He broadcast from 279 test matches over 47 summers, and also presented the radio programme Down Your Way until 1987.
Married Pauline Tozer, and had three sons and two daughters, Brian lived within strolling distance of Lord's Cricket Ground.
He wrote many light-hearted books about cricket, including It's a Funny Game... (1978).
Brian Johnston's Obituary by Anthony Hayward in The Independent.