Holdsworth Family History
Holdsworth's Cyclopaedia & Glossary: Events, People, Terms
One unit of the chain controlling the operating of a Dobby.
Lasting
A very stout, closely woven fabric made from hard-twisted worsted yarns, often used in protective clothing.
Lease, Leasing
A formation of the ends of a warp that maintains the orderly arrangement of the ends during warping, preparation processes, warp knotting and during weaving. Usually consisting of two sheets of ends which pass alternately over and under two transverse cords or rods. Such a formation is called an end-and-end lease.
Leasing is the operation of inserting a lease in either a warp, or a loom. In Warping, the use of a Leasing Reed makes this process much easier.
Leno
1. Weaving in which the warp yarns are paired and twisted to bind with the weft, or to cross with one another between the picks.
2. A fabric having such a weave.
See also Monkey Chain
Let-off Motion
A mechanism for controlling the delivery and tension of the warp during weaving. There are generally three types: negative in which a braking force is applied to the warp beam, positive in which the warp is delivered at the rate it is being absorbed irrespective of tension, and roller in which the warp threads are delivered at a predetermined rate to produce a required structure. In Holdsworth's only positive let-off and roller let-off are used.
Levelling
Migration leading to uniform distribution of dye in a dyed material, fibre, yarn or fabric.
Lift
In weaving, a term used to denote the movement of those parts of the loom associated with the formation of the shed. In weave diagrams, to denote the representation of warp thread passing over a weft thread.
Lingoe
A Lingoe is a metal weight attached to the lower end of each cord of the Jacquard Harness, below the Harness mail. As the speeds of jacquards increased, these were replaced with springs which could act on the cord faster than with the force of gravity, and with less dead weight to move.
Lint
Fibres which need to be removed as waste - See Fly.
Litre (Liter)
Take a cube having sides equal to 1/10th of a metre. This cubic space is also called one litre so volumes of different liquids can easily be compared.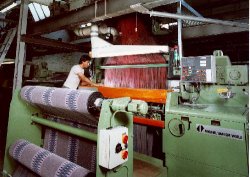 Van de Wiele Velvet Loom, 1990
Loom
A Loom is a machine for producing cloth by the interlacing of Warp (longitudinal) and Weft (transverse) threads, in a process known as Weaving. The first looms were hand operated, and in Yorkshire a weaver would have a "hand loom" in his home. See also Automatic Loom and Power Loom.
Loom Speed is rate at which the loom runs measured in picks per minute. See also Weft Insertion Rate
Loom Effective Speed is the product of the rate at which the loom runs measured in picks per minute and the loom efficiency.
Loom Efficiency is ratio of the average picks per minute and the loom speed expressed as a percentage.

In the 1970s and 1980s there were many spectacular developments in weaving technology, with huge leaps in Weft Insertion Rates brought about by Shuttle-less looms using projectile (Sulzer), Rapier, Air-Jet (Sulzer, Tsudokoma, Picanol, Toyoda, Dornier, Somet and Trustein) and Water-Jet. The jet-looms reached breathtaking speeds of over 2,000 picks/minute, creating excessive noise and vibration!
In the 1990s there have been no spectacular new developments in loom or weaving technology, however, there are continued incremental developments in respect of loom design engineering, ergonomics, maintenance, automation and microprocessor technology. In recent years the manufacturers have concentrated on precise components and sturdiness in design, combined with lighter actual weight, to contribute to lower maintenance cost and time. The key elements in weaving technology development have been versatility, improved reliability, less noise, simplicity in setting-up and adjusting, higher production speeds, higher productivity, ease of operation, lower energy consumption and the production of higher quality fabrics.
What has been spectacular is the recent developments in Jacquard technology. The complex nature of these machines has lent them to be ideal candidates for microprocessor based improvements, which has led to a wealth of new products from all the jacquard manufacturers to enable more rapid product development from initial concept to cloth, and increased pattern versatility, ultimately leading to the ideal situation of individual thread control on the loom.

At John Holdsworth & Co Ltd, velvet material production has been carried out on Wire-Loom and Face-to-Face Loom with some small amount of Flat Cloth weaving in the 1960s and 1970s.

Looming-up
The process of setting up a loom from scratch so that the threads are passing through the correct guides in the correct order, including Creel, Raddle, Drop Wires, Heald Shafts, Jacquard Harness and Reed. This task is often carried out by a Loomer-Upper, following a standard Draft. See Gait Up.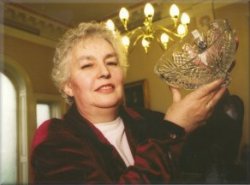 Rosemary Lord, 2000
Lord, Rosemary
Rosemary Lord joined John Holdsworth & Co Ltd in 1975 as a sales clerk in the Sales Office, which, at the time was a partitioned section of the Contract department.
Rosemary looked after all the overseas and railway customers, writing out the invoices, pick-lists and despatch notes by hand in 3-part copy ledgers, one of which were sent up to the main offices for typing. This was four years before the telex machine was installed, and an age before facsimile machines.
Rosemary, by the time of her retirement at the end of 2000, had seen the sales office grow from a staff of three to twelve, relocated twice, and eventually furnished with the most modern communications and information management facilities available at the time.

Rosemary married Willie Lord; they met in 1957 at a commissioning dance for HMS Puma in Devonport, Plymouth. He was an able seaman in the Royal Navy and she was a clerk in the Women's Royal Naval Service. Keeping in touch by letter having been posted to different countries, they married in Mrs Lord's home county of Middlesex. Rosemary and Willie Lord had three daughters, Christine Bray, of Elland; twins Gillian Crook, of Boothtown, and Teresa Mallinson, of Warwickshire.
Willie Lord, 73, was born in Greetland, and the couple moved to Elland in 1966.
See Press Cutting of Rosemary Lord's retirement.
See Halifax Courier 7 Aug 2009 Willie and Rosemary Lord's Golden Wedding.
Luminance
Luminance is measure of the apparent overall reflectance of a coloured object, or the apparent brightness of a light source.
Lustre, Luster
Lustre is the display of different intensities of reflected light, from different parts of the surface exposed to the same light. It is usually dependent on the angle of light and the angle of viewing, and includes both specular (shiny) and diffuse (matt) elements of the reflected light.