Holdsworth Family History
Holdsworth's Cyclopaedia & Glossary: Events, People, Terms
Bairstow and Atkinson, firm of chartered accountants in Halifax, established in 1919, by John (Jack) Atkinson and Edgar Bairstow. John was killed in a car crash at Ovenden ca. 1921.
They were the financial accountants and auditors to John Holdsworth & Co Ltd, with the earliest records going back to circa 1935.
Henry Peaston acted as partner before Stephen Priestley. Henry died circa 2001.
After Stephen Priestley, Peter Dyson looked after the Holdsworth accounts.
Baker, Annette
Annette Sandland joined John Holdsworth & Co Ltd in the production division as a fabric quality inspector.
Having demonstrated over time her eye for detail, Annette progressed well in the company, taking on various roles in quality management, eventually to become in 2003 the Quality Assurance Manager.
This position involved close interaction with every facet of the business and involved several overseas visits to suppliers and customers.
Annette continually demonstrated her commitment and involvement by undertaking many internal and external audits personally,
and by passing on her valuable skills and experience to suppliers and customers.
During her time in the Company, Annette met Brian Baker, who was at that time the weaving production planner, whom she subsequently married, to become Annette Baker.
Brian subsequently left the Company to work not far distant in the Albion Mills site of Nestlé UK Ltd, in Halifax.
Following the closure of the manufacturing operations at Shaw Lodge Mills, Annette remained on the premises to take charge
of processing operations for Greenwoods Menswear.

Balloon
The shape that yarn forms when wound at speed, and having a large influence on the tension which is then applied to the yarn. Large single balloons create the greatest tension due to the centripetal Force (F =mv2/r, where m =mass/unit length, v =speed of rotation, r =radius of balloon.) Thus it is possible to increase the speed of winding machines by improved control of the balloon.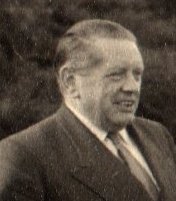 John L Balmforth,
general manager of
John Holdsworth & Co Ltd
Balmforth, John L; ACIS
John L Balmforth of The Lilacs, New Lane, Halifax, was general manager of John Holdsworth & Company Ltd and became a director in November 1956.
John Balmforth was immediate past president of Halifax Chamber of Commerce, a former president of Halifax Textile Society and an Associate of the Chartered Institute of Secretaries.
A keen gardener, he made the sloping garden at The Lilacs into a terraced garden. A stone archway in the garden came from one of the Holdsworth properties in the 1960's.
He died on 23 March 1962, aged 57.
The bearers at his well-attended funeral held at Square Congregational Church, Halifax, on Wednesday 28 March 1962, all employees of John Holdsworth & Company Ltd were Messrs. H. Bottomley, Fred Breaks, Albert Rhodes, Fred Helliwell, Cyril Francis and A. Amner.
Representatives of the Company attending the funeral were: Donald Greenwood, Leslie Gartside, Isaac Jennings, Selwyn Bottomley (contract department), Ernest Oddy (spinning manager), Philip Sunderland, Carl P. Wang (Danish representative), W. 'Bill' Walsh, C.M. Thomas, Mrs. E. Welch, Mrs. M. Smith, Mrs. B. Ainley, Mrs. L. Richardson, Mr. & Mrs. Roger N. Depledge. Representing John Holdsworth and Company Ireland Limited, Dr. Jack L. Fitzpatrick.
Bang-Off (Shuttle-Loom Weaving)
A shuttle loom will bang-off if the Shuttle fails to reach the receiving shuttle-box.
The looms have a mechanism fitted which protect the Loom, Shuttle, Reed and Warp ends from damage which would occur if the loom was allowed to continue to Beat-up.
Bannister, Family
THE BANNISTER FAMILY had several members who worked at John Holdsworth & Co Ltd, of Shaw Lodge Mills, Halifax.
These included five brothers; Squire, Ernest, Arnold, Milford and Gordon Bannister; four of whom worked as weavers, Milford worked in the spinning; youngest sister Vera; Squire's daughter Jean who worked in the Design Department making moquette patterns; and Gordon's wife Mabel (nee Thornhill from Mirfield) was a mender in the mill, which is where they met. Mabel also served in the A.T.S. attached to the R.E.M.E, cleaning tanks.
These were the children of Arnold Bannister who served 22 years in the Royal Navy, and who was present on the same ship with Admiral Sir John Jellicoe at the Battle of Jutland; the largest naval battle in history involving over 250 ships on 31 May - 1 June 1916.
(We display here a photograph at the Mill, showing Squire and Ernest Bannister, which is also available in Chapter 4 of the Company's history.)
For more detailed information on the fascinating story of the Bannister Family, see the Bannister Family section of the History.
Barraclough, Colin
Colin Barraclough returned to the company as sales office manager in 1978, having previously worked in the sales office prior to working for John Foster's at Black Dyke Mills in Queensbury. During his period of office he saw the departmend expand, movinging from a cramped office of three people, located in a cabin underneath the mending department working with ledgers and carbon-paper. In 1985 Colin was involved with the implementation of the first business computer system, and in 1990 he saw the sales department move firstly to the ground floor, and three years later to a spacious open-plan office in the company's main office building, now accommodating ten people, which included a shipping section. After Colin retired in 1999, his position was succeeded by Susan Molloy, Stuart Procter and Julia Gaukroger.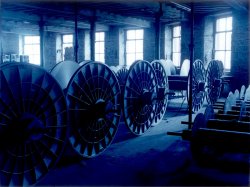 Beams, in storage at John Holdsworth & Co Ltd
Beam, Beaming
A beam is the barrel, cylindrical in shape, usually with end bearings or spigots, and with flanges mounted at the ends, onto which is wound a warp, usually to form the ground structure of pile fabrics, however also used to hold the pile yarn for shaft looms.
Beaming is the primary operation of warp-making in which ends withdrawn from a warping creel, evenly spaced in sheet form, are wound onto a beam to substantial length (usually to a multiple of loom warp length). Several similar beams (termed a set of back-beams) of the same length provide the total number of ends required in the warps to be made.
Direct Beaming can be performed when the total number of ends required on the Weaver's Beam will fit in the creel, and the beaming is carried out in one process. This applies to the Wire-Loom beams which have half the number of ends that are on Face-to-Face beams.
Beating-up
The third of the three basic motions involved in weaving, namely, Shedding , Picking , and Beating-up.
It consists of forcing the pick of the weft yarn left in the warp shed up to the Fell of the Cloth.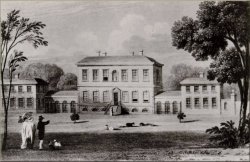 Bellinter Park, Navan, Co Meath, Ireland
Bellinter House
Bellinter House, Navan, County Meath, Ireland - The home of William Holdsworth from 1957 until 1966.

See page on Bellinter House
Bentley Motors
Bentleys were the favourite marque of cars belonging to William Holdsworth.
He owned three of these cars.
Mark VI Bentley convertible with E.D. Abbott body. BCP 555
DCX 530
EVH 555, Maroon Hard-top. (Didy's Bentley, which was smashed on the A1 in 1959.)

The Bentleys


















The Bentleys
Birr Fabrics
Set up by Mr. Ernest Wood, as Messrs. B. Wood & Sons (Ireland) Ltd., (ca. 1950) manufacturers of carpet and moquette located in the Irish Midlands, at Syngefield, Birr, County Offaly, Ireland.
In 1961, Ernest Wood was the managing director and designer, and in 1962 he was joined by another designer, Alan Titterington. Alan returned to Halifax in 1965 to join the management at Crossley Carpets, and his replacement the same year was Leslie Eastwood.
The company later changed name to Max Birr Ltd, marketing under the trade name of Birr Fabrics.
This business went into liquidation during the stewardship of Leo McHugh in 1991. The company's assets were purchased by John Holdsworth & Co Ltd in December 1991, and the products re-branded, under the short-lived name of Shannon Velours Ltd.
At that time the designer was still Leslie Eastwood and the site manager was Brendan Heffernan.

The company never again went into production and was wound up in 1993, with the production and sales then having been taken on by John Holdsworth & Co Ltd.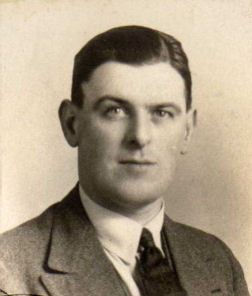 Robert W Birtwhistle, photo dated 1931
Birtwhistle, Robert William
Robert Birtwhistle was born on 8 January 1900. He joined John Holdsworth & Co Ltd in 1924.

Robert progressed well in the business, and was already representing the company as a salesman by 1927.
He was the Company's Sales Manager from 1937 to 1951, and was responsible for buying the German looms in the 30's in addition to his duties as Sales Manager, hence his many visits to Nazi Germany between 1932 and 1938. He wrote lengthy reports on the factories he visited, noting how production areas changed between each visit. It was obvious to Robert that areas were being set aside for munitions and weapons production and these reports were sent to the Defence Ministry in London.
During the war as a Special Constable, he was in charge of the Air Raid Protection unit at Shaw Lodge Mills.
In 1936 he was responsible for landing the contract with Cunard to supply moquette for the liner Queen Mary
and represented John Holdsworth & Co Ltd at the official lauch ceremony in Southampton.
According to Robert's agreement made with the company on 27 January 1927, his position at that time was
"Assistant Salesman" with an annual remuneration of 200 pounds sterling.
By 1937, then in the position of sales manager, this figure had risen to
650 plus a one percent commission of the company's net profit.
We have available, pictures of a number of documents and artefacts that have been kept by Robert's son John Birtwhistle,
who is still resident with his wife Olan, in close neighbourhood to the business in Halifax.
We are very grateful for their contribution.

To see the more details click on Robert's portrait or click here.

Blending
The process involved in mixing Fibres, either to ensure a consistent homogeneous mass, or to mix fibres of different characteristics, e.g. wool/nylon, cotton/polyester.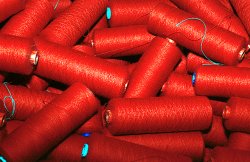 Bobbins, photographed by Oscar Paisley, 2001
Bobbin (or Cheese or Reel)
A Bobbin or Cheese of yarn is a package of yarn, Wound from a Cone onto a flange-less Tube, usually weighing up to 1 Lb. or 500 grammes.
These are required to weave fabrics on a Jacquard loom, and are placed onto pegs on a Creel.
Boll
The seed-case, and its contents of the Cotton plant.
Boot Company
John Holdsworth Boot Co. Limited, incorporated as registered company number 168939 on 10th July 1920 following the prior use of four floors of the warehouse at Shaw Lodge Mills, Halifax as a boot repair depot for the army ordnance department.
The venture was never successful and was quickly wound up.
Link 1: John Holdsworth & Co Ltd - Company History, Chapter 4, 1913-1939.
Link 2: John Holdsworth Boot Co Ltd - Summary, Certificate of Incorporation, and Articles of Association.
Breaks, (Brothers) Teddy, Fred and George
Edward (Teddy) Breaks who was Fred's and George's eldest brother, was called up when he worked in the Mill. He loved sport, and was the coach and played football for Halifax Town for ten years, playing in the position of left-back. (Hence he only scored one goal in his sporting career.)
Teddy Breaks served in the Tank Corps as a tank driver in the 8th Army in Africa; in Lybia, India, Burmah and Italy.
When Teddy returned from the war, he worked in John Holdsworth & Co Ltd for another 15 years then moved to Luddenden Foot. He married Maureen and had a daughter Christine, who married Nigel.
Teddy died at Park View Nursing Home in Halifax on 9 Nov 2000 aged 80 years.
He will always be remembered as a caring and conscientious person, with great strength of character, who persevered in his devoted struggle to be faithful to his country, sport, work, family and friends.
Fred Breaks, born on 12 April 1923 started working at John Holdsworth & Co Ltd on 1 April 1937, just before his 14th birthday. He became a loom tuner and eventually manager of the Weaving Department, a position he held for the rest of his working life. He retired after 50 years service on his 64th birthday, on 12 April 1987. He worked in the 'shed office' which was then located in the shadow of the mill's clock tower, along with colleagues Herbert Whittaker, Audrey Harker, Eric Simmister and Arthur Taylor. During the 1980's Paul Woodhead was responsible for the yarn processing, and Peter Hepworth was in charge of the finishing and mending department.
George Breaks the youngest brother also worked in the mill. George died in the year 2000.
British Furtex Fabrics Ltd
British Furtex Fabrics Ltd, manufacturers of artificial fur and moquette upholstery fabrics, whose primary use was for seat coverings within the transport industry. British Furtex were located in the Calder Valley at Delph Mills, Luddenden Foot, between Halifax and Mytholmroyd.
The company changed hands a number of times, having been owned by the Homfray Carpets Group under Denys Gillam until the 1970s, then sold to John Lawrence, and finally it was acquired by Melton Medes in June 1987.
In January 2003, the company's assets and brand-name were purchased from the Receivers by Interface Fabrics.
In 2006 the Interface Group returned to independent ownership following a management buy-out to form Camira Fabrics Ltd.
In 2007 Camira acquired the business of John Holdsworth & Co Ltd, bringing deep-rooted global markets in transportation fabrics.

Alderman Arthur Albert Broadley
Broadley, Arthur Albert
Arthur Albert Broadley was born on 3rd January 1860, the son of Martha Broadley of Luddel Top, Southowram, and he became a well known and respected councillor and alderman of the borough of Halifax.
Living at High Grove in the Trooper Lane area of Halifax [HX3 9PW], with a career as an insurance agent, he had connections with the Holdsworth family.
Arthur married and had five children, Frank, Clement, Martha, Arthur and Jack.
He died in 1921, aged 60 or 61.

Arthur Broadley's children
Frank, Clement, Martha,
Arthur and Jack
[Information and images above kindly provided in April 2009 by Sarah Williamson, grand-daughter of Martha in picture; great grand-daughter of Arthur Broadley. Sarah married Peter Lumb, son of Trevor Lumb and grandson of Tommy Lumb, within whose building firm they carried out work at Shaw Lodge Mills, Halifax and at Scargill House in the dales. In the one fatality that took place at the Mill, it was one of Tommy's men who fell from the 7 storey-high roof, this occurred circa 1950. Sarah and Peter's first house was at 7 Holdsworth Terrace, overlooking the mill buildings; where the photograph of Teddy Breaks was taken in the garden. They now live in The Lilacs, New Lane, Halifax; previously the residence of John Balmforth.]
Burling
The process of taking out, by hand, minor imperfections in the cloth. This is carried out in the Mending Department.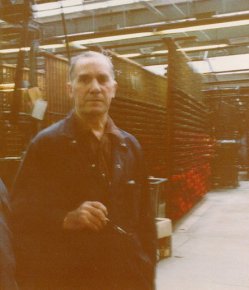 Harry Burton in front of wire loom, A Shed, 1970's
Burton, Harry
Harry Burton, born on 5 May 1918, joined John Holdsworth & Co Ltd in 1932 at the age of 14 as a creeler, subsequently he became a weaver, and later a loom tuner on the wire looms, located in 'A-Shed'.
Harry was called up during the second world war and served in the army in the artillery, where he reached the rank of sergeant.
He was captured and taken P.O.W. in Italy, and sent to Germany where he spent 2 years in the prison camp Stalag 4B.
Harry had a brother Bill and sister Ann. He was married in Halifax Parish Church to Evelyn Bradley, the sister of Derek Bradley, a harness tyer in the company.
He retired on his 64th birthday in 1982, having served the company for 50 years, to look after Evelyn, who was by then in ill health.
Harry lost his life in a car accident in Skipton on 3 April 2001, just a month before reaching his 83rd birthday. His nephew, David Bradley, Derek's son was still employed at the mill as a jacquard card cutter at that time.
Butt
1. The wider base of a Pirn which is held by the Shuttle in an Automatic Loom.
2. The type of stitch used in sewing one piece of cloth to another, so that the two "butt-up" against each other.