The Bannister Family of Siddal

---
Bannister Family

Bannister, Family
THE BANNISTER FAMILY of Siddal, Halifax had several members who worked at John Holdsworth & Co Ltd, of Shaw Lodge Mills, Halifax.
These included five brothers; Squire, Ernest, Arnold, Milford and Gordon Bannister; four of whom worked as weavers, Milford worked in the spinning; youngest sister Vera a mender; Squire's daughter Jean who worked in the Design Department making moquette patterns; and Gordon's wife Mabel (neé Thornhill) from Mirfield was a mender in the mill, indeed it was whilst working at Shaw Lodge Mills that Mabel and Gordon first met.
These are the descendants of Arnold Bannister and his wife Mary Ann Bannister (neé Haley), residents of Whitegate, Siddal, Halifax.
(This photograph showing Squire and Ernest Bannister on the Mill steps is also available in Chapter 4 of the John Holdsworth and Company's History.)
Earlier information was provided in a telephone conversation with Gordon Bannister on 10 Nov 2000. His sister, Nellie Attiwell, now aged 85 in April 2009, has provided additional information in an interview.
David W Holdsworth, 7/5/2009
---
Arnold Bannister:
Arnold Bannister served 22 years in the Royal Navy, and was present on the same ship as Admiral Sir John Jellicoe at the Battle of Jutland; the largest naval battle in history involving over 250 ships on 31 May - 1 June 1916. Arnold's father was Squire Southwell Bannister. Arnold died in 1935.
Arnold married Mary Ann Haley and they had 9 children; Squire Southwell, Ernest, Arnold Jellicoe, Milford, Cyril, Nellie, Gordon, Vera and Walter. The family lived at 9 Whitegate, Siddal, a small house with one bedroom upstairs. They subsequently moved to number 2 Whitegate, Siddal in about 1934, a larger house with 3 bedrooms, a sitting room and a living kitchen and ample cellars.
Squire and Ernest served together throughout the Second World War, in Europe and in the Faroe Islands. They had volunteered for the navy, but were not accepted; Mary Ann wrote a letter to Winston Churchill in complaint, and received a reply, but they both ended up in the Pioneer Corps, and spent much of their service time looking after POW's.
Squire Southwell Bannister started work for John Holdsworth & Co Ltd at Shaw Lodge Mills, but decided to go gardening for the Halifax Corporation just before he was called up. Gardening was his passion.
After the War he went back into the Mill, as he needed the money after the twins arrived.
He then became the landlord of the Noah's Ark pub at the junction of Keighley Road and Shay Lane.
Later he became landlord of a working men's club and then of the Windmill at Northowram.
When Gordon was married, the reception was held there, at the Windmill.
Afterwards he went back to gardening for the corporation because he loved it.

Squire married Mary Gaynor and they had twin daughters. Squire was celebrating in the Cross Keys Pub, Siddal, and it was there he decided to call them Norma and Jean; he said because that was the nearest he would ever get to his pin-up, Norma Jean Baker (Marilyn Monroe.)
Norma died young at age 35-40.
Jean married a Mr. Hurrell (now deceased) and currently lives in Kent. They had 2 girls.
Jean worked for John Holdsworth & Co Ltd at Shaw Lodge Mills as a pattern cutter in the Design Department under Isaac Jennings and with Jack Thompson and Eddie Chapman.
Ernest Bannister worked only for John Holdsworth & Co Ltd at Shaw Lodge Mills.
Ernest married Jessie Cawood. Jessie worked at Shaw Lodge Mills, but not for long. That is where they met.
Jessie then went to work at Martin's Mill, Pellon Lane, Halifax.
Jessie worked there with Mary Gaynor, who she invited out to meet Squire on a blind date, which is how they met, later to be married.
Ernest and Jessie had two children, David and Christine.
David Bannister is now retired after a career with the Halifax Police, and currently lives in Northowram.
Christine died of cancer in 2008.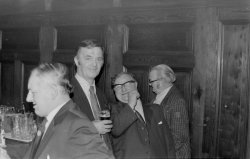 Arnold Bannister, Harold Maher
John Holdsworth & Co Ltd Annual Dance,
in Queensbury, ca 1977
Arnold Jellicoe Bannister was very proud of his second name, named after the admiral.
Arnold worked only for John Holdsworth & Co Ltd at Shaw Lodge Mills.
Arnold served in the Royal Artillery and was stationed in Italy; he came back very deaf and received a full pension.
Arnold married Dorothy and they had 2 boys, Terry and Tony Bannister.
Terry Bannister lives at Denholme. Tony Bannister lives at Wheatley, near Brackenbeds.

Milford Bannister was born on 3rd January 1920.
In 1934, at the age of 14 he started work at John Holdsworth & Co Ltd in their Shaw Lodge Mills.
Milford Bannister worked in the 'Mill' which was the spinning division of the company, whereas his brothers had worked in the 'Shed', which was the weaving division.
In 1938 at the age of 18, he joined the Royal Navy as a stoker; he was promoted firstly to chief stoker, then petty officer.
In about 1954 Milford Bannister left the navy after 17 years service.
Milford married Lottie Eagling. In 1944 they had a daughter, Rita Cavell Bannister, now Rita Aveyard. Lottie was one of five girls, sister of Hetty Binns who worked as a yarn winder in Shaw Lodge Mills. Hetty's middle name was also Cavell, named after nurse Edith Cavell, a British heroine executed by the Germans in the First World War.
Cyril Bannister worked in the fish and game trade in Halifax, in the wholesale market in the Piece Hall.
The Merlin was considered to be one of the finest piston engines ever conceived, successive versions powered not only the Spitfire, but the Hawker Hurricane, de Havilland Mosquito, Mustang, the Lancaster and York bombers, and others. Perhaps the only aircraft engine to have become famous, it was named after Britain's smallest falcon (Falco columbarius), the merlin. Rolls-Royce piston aero engines were all named after birds of prey.
The Merlin engine started out with 750hp, which was to rise with further development through the use of advanced metallurgy and unusual alloys to 1,030hp by the outbreak of the war in 1939. Within another three years, this had become 1,730hp.
The Merlin Engine
Cyril spent his war years in the army.
When he was stationed in Cheshire between Nantwich and Middlewich, he met his future wife, Emily Stretch. Emily was at that time working at the Rolls-Royce factory in Crewe, making Merlin aircraft engines.
Emily was born in the village of Whitegate in Cheshire, on the estate of Hugh Cholmondeley, 3rd Baron Delamere, a British peer and a farmer in Kenya.
Emily Bannister still lives not far from Whitegate Road in Siddal, Halifax. [May 2009]
Cyril and Emily had one son, Robert Cyril Bannister, who lives in Bradley, Huddersfield.
In the words of Geoffrey Horrocks-Taylor:
"Cyril Bannister ran the "Whitely's" shop down the fish market section of the Borough Market.
The shop was owned variously by the Feather family, ourselves, and Frank Sharp over the years.
Cyril was there during its pomp in the 1960's and 70's. He latterly worked for us until his retirement.
He was undoubtedly the finest fish retailer Halifax ever saw, selling 50 stone of best haddock on a Tuesday and Friday, plus loads of other varieties.
He and his wife Emily celebrated a golden wedding a few years ago which was reported in the Courier and I spoke to them then.
They lived just above the Mill at Siddal. A fine man."
Cyril Bannister passed away at the age of 87, on 10 June 2009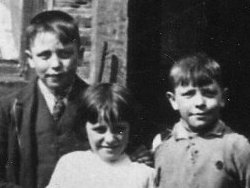 Milford, Nellie, Cyril Bannister, 1933

Nellie Bannister born 19th January 1924, did not want to go into the Mill, she was shy and scared of the Mill.
Nellie went into sewing at the age of 14 as was the norm. Ernest's wife Jessie's sister worked at Dodds on Hall Street, up Hanson Lane by the fire station, making overalls, and Nellie went there with her; it was piece work; hard work. The Corporation Yard was opposite Dodds.
With her friend, both becoming fed-up with sewing, they decided to join-up. Nellie joined the WAAF as a cook, and was stationed at Driffield. It was there that she can vividly recall in June 1944 when the invasion was on, one lad came back and said "all hell has let loose".
Nellie met her husband Leonard Attiwell, an MT driver, at Driffield; he was from Triangle, near Halifax. He drove all kinds of goods including munitions.
They had 4 children; losing their first baby at 14 months of age. Their son Brian was tragically killed on the road to Mytholmroyd at the age of 24 after being married just a month. Two girls are still surviving, Sandra Arness, lives in Henley on Thames; and Susan Jagger.
As the children grew older, Nellie went back into part-time work; Len worked at Ripponden and District Carriers, and later became a chauffeur at the Halifax Building Society. He transported Sir Raymond and Lady Marguerite Potter. Lady Potter was her saviour when Brian was killed; she was head of the Samaritans in Halifax.
Nellie made a 3-tier wedding cake for Sarah Potter's marriage.
Mr Spalding, ex chief general manager of the Halifax Building Society lives close to Sandra in Henley-on-Thames.
The Bannister family lived in Whitegate Road, Siddal, just above the Mill.
Squire had a lot of lasses come to our house, always well dressed.
Arnold had a girl-friend who took me dancing for the first time in the ILP, under the Alhambra picture house in Halifax.
Later on, we used to go to Southowram Club every Saturday, but in the black-out it was unsafe to walk home, so I was staying at Ernest's house in Common Lane, Southowram, and I remember hearing Chamberlain on 3 September 1939 over the wireless announcing that "we are now at war". Squire had also moved to Common Lane at this time.
Nellie and Len were married 63 years; their golden wedding was celebrated in the Halifax Courier.
ATS: The Auxiliary Territorial Service was the women's branch of the British Army during the Second World War. It was formed on 9 September 1938, initially as a women's voluntary service, and existed until 1 February 1949.
REME: The Corps of Royal Electrical and Mechanical Engineers is a corps of the British Army with responsibility for the maintenance, servicing and inspection of almost every electrical and mechanical piece of equipment within the British Army.
Gordon Bannister, the youngest son, worked only for John Holdsworth & Co Ltd at Shaw Lodge Mills.
Gordon started work in the mill at 14, and was called up at 18, served in the 5th Reconnaisance Corps, 13/18 Royal Hussars, Queen Mary.
Gordon Bannister's wife Mabel Thornhill, from Mirfield, was a mender in the mill, and served in the A.T.S. attached to the R.E.M.E. She cleaned tanks.
Gordon and Mabel had two children; Allan and Ann, named after her grandmother, Mary Ann Bannister).
Allan is currently living in Canada, and Ann married Graham Dobson and lives in Bradford.
Gordon died in September 2001
Vera Bannister worked in the mending department at John Holdsworth & Co Ltd in their Shaw Lodge Mills.
Walter Bannister, the youngest child died of diphtheria in 1935 at the age of 5 years.
From the Photograph Album

Doris (Mary Anne's sister), Mary Bannister (Squire's wife),
Mrs Mary Anne Bannister,
Vera Bannister (youngest child), Mabel (Gordon's wife)
SHAW LODGE MILLS ANNUAL DANCE
THE VICTORIA HALL, HALIFAX
13th November 1953

Book of Common Prayer and Hymnal Companion
St. Mark's Sunday School, Siddal
HOLDSWORTH'S PRIZE
awarded to
NELLIE BANNISTER aged 11 years
by George B Holdsworth, December 1935

Arnold Bannister (spectacles), Harold Maher
John Holdsworth & Co Ltd Annual Dance,
in Queensbury, ca 1977

Vera, Mary Anne, Mabel Bannister
In front of John Holdsworth & Co Ltd
Shaw Lodge Mills,
Halifax, ca 1950

Milford, Nellie, Cyril Bannister
Notice the Bully Bowls hanging up.
At home, Whitegate Road, Siddal
Halifax, ca 1933

Ernest, David, Gordon, Arnold, Squire,
and Cyril Bannister at the Shay stadium
(this photo appeared in the Halifax Courier)
Halifax, undated

Jean, Norma, David Bannister
At a Mill children's Christmas Party
John Holdsworth & Co Ltd
Shaw Lodge Mills,
Halifax, ca 1955


Siddal Family's Service Record
as shown in the Halifax Courier, 8th Sept 1944

"Among the parents having large families in the Forces is Mrs. Bannister, 2 Whitegate Road, Siddal, Halifax, who has serving six sons, one daughter and a son-in-law.
The eldest is Squire, aged 34, a corporal in the Pioneer Corps; next comes Ernest (32), who is also a corporal in the Pioneer Corps. Both were recently sent abroad to an unknown destination.
Arnold, aged 30, is a private in the Royal Artillery, and has been in Italy for some time.
The only one in the Royal Navy is Milford (25), who is a Leading Stoker.
Cyril, aged 23, is a corporal in the R.A.O.C., and Gordon, who only recently joined the forces is a private in the R.A.C.
Nellie (20), who is now Mrs. Attiwell, is an L.A.C.W. in the W.A.A.F., and her husband, Leonard (22), is an L.A.C. serving with the R.A.F. in France."