Halifax Textile Society 1913-2008

History of Halifax Textile Society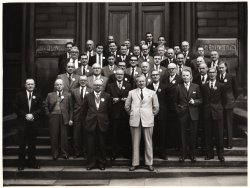 Federation of Textile Societies 26 May 1962
visiting
John Holdsworth & Company
at
Shaw Lodge Mills
Halifax
Halifax Textile Society was Formed in 1913, and remained active until April 2008.
Meetings were held on the first Monday of each month at in the White Swan Hotel, Halifax.
The officers in its final year were:
President
Mr. D. W. Holdsworth B.Sc., ATI
Hon. Secretary
Mr. B. C. Wadsworth ATI
Hon. Treasurer
Mr. David B Whiteley BA
Committee
Mr. P Benson
Mr. P J North
Mr. G W Kergon
Mr. D W Holdsworth B.Sc., ATI
Past presidents from John Holdsworth & Co Ltd include:
John Balmforth; David Holdsworth; Ernest Jennings;
Walter Townend; and past vice-president, J Michael Holdsworth.
Recent Halifax Textile Society Officials

President

Chairman

1988
Michael P Clay, ATI
Robin W Whiteley, LTI
1990
David W North
D Grimshaw
1992
Miss Jill Fletcher JP
Stanley Williams
1993-4
G Charles Robinson
Adrian G Jennings
1994-5
Dennis W Martin, B.Sc.
Adrian G Jennings
1995-6
Dennis W Martin B.Sc.
GW Kergon
1996-7
Stanley Williams
GW Kergon
1997-8
Stanley Williams
Eddie C Young
1998-9
Robin W Whiteley, LTI
Eddie C Young
1999-2000
Robin W Whiteley, LTI
Ernest E Jennings, ATI
2000-1
Adrian G Jennings
Ernest E Jennings, ATI
2001-2
Adrian G Jennings
Peter H Benson
2002-3
Eddie C Young, ATI
Peter H Benson
2003-4
Eddie C Young, ATI
Michael Airey
2004-6
Michael Airey
2006-8
David W Holdsworth, B.Sc., ATI
Halifax Textile Society Presidents

1912-26
JH Whitley MP, later to become the
speaker of the house of Commons.
1926-27
F Slater JP
1927-32
A Ollerenshaw
1932-34
W Brenard
1934-36
W Morley
1936-38
J Dyson
1938-46
H E Brearley
1946-48
P Bentley
1948-50
J Isles JP, ATI
1950-52
A E Ollerenshaw
1952-54
T Robinson
1954-56
D A North
1956-58
J L Balmforth ACIS
1958-60
W Cockroft
1960-62
J D Spencer FTI
1962-64
G Robinson
1964-66
W Townend
1966-68
J Fletcher
1968-70
J S H Walker
1970-72
H Walker
1972-74
B S Butler
1974-76
A Braithwaite
1976-78
E E Jennings, ATI
1978-80
H V Walker FTI
1980-82
H J Repper
1982-84
J Graydon
1984-86
K G Duffy FTI, MBIM
1986-88
M P Clay ATI
Report from the 2003 Halifax Textile Society Annual Dinner. 24/1/2003

YORKSHIRE GRIT WILL KEEP INDUSTRY ALIVE
Dogged determination by the textile industry in West Yorkshire will help it to survive, members and guests at the 73rd annual. dinner of Halifax Textile Society were told at Elland Cricket, Athletic and Bowling Club, Hullen Edge.
More than 150 members and guests, including a number of past presidents, the Mayor of Calderdale, Coun Patrick Phillips and guests from Bradford and Huddersfield, enjoyed a five-course meal followed by jokes and bservational humour from Mike Farrell, of Keighley. President Eddie Young paid tribute to the late Brian Butler, a member of the society for many years and a past president.
"He was well respected and a true gentleman" Mr. Young said.
He added "This once great industry of ours continues to decline, as indeed the manufacturing sector in general. Politicians of all colours seem to feel that industry is no longer needed in the UK, a very narrow view to take.
"However there are people here tonight who will continue to do their damnedest to fight against all odds and survive; and that is what being in textiles is all about - guts, determination, and the will to succeed, and sometimes sheer bloodymindedness."

Ending tonight...a 95-year tradition as textile society closes on a high
Report on the closing of the Society click here
From the Photograph Album