Minister to be told of Textile Worries

---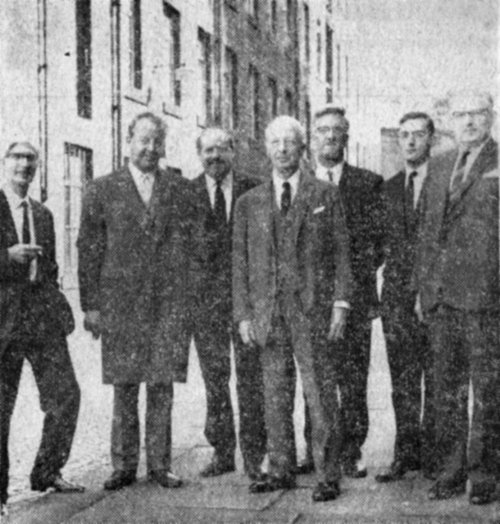 Mr. Mallalieu (second left) at Shaw Lodge Mills with members of
the Holdsworth board and Board of Trade representatives.
Others, left to right:
Mr Walter Townend, Mr. William Holdsworth, Mr. T.P. Downey (chairman of directors),
Mr. E. Atherton (Regional Controller, Board of Trade), Mr. S.G. Linstead (Board of Trade),
Mr. G.P.A. Sunderland.
Minister to be told of Textile Worries
MINISTER OF STATE at the Board of Trade with special responsibility for textiles, Mr. J. P. W. Mallalieu visited mills in Halifax and Queensbury today when he began a three-day tour of West Riding centres in wool.

Originally, the tour was to have been made earlier this year, the idea being for the Minister to talk with trade leaders on problems of imports and exports, quota and tariff restrictions around the world, the labour situation and plans for development and research by Britain's wool textiles.

Since the postponement - the original date was in January - the industrial situation affecting wool textiles has darkened considerably. This week, two Halifax mills which recently announced intended closure, are expected finally to close down. And 24 hours before Mr. Mallalieu's arrival in the West Riding, another spinning mill, at Bradford, announced it is to close.

This aspect of the situation will be discussed at a special private meeting in Halifax tonight between Mr. Mallalieu and a deputation from Halifax and District Trades Council which has expressed concern over recent months at the local decline in wool textiles and the apparent need for newer "growth" industries to be introduced to the town.

The Trades Council's delegates will be accompanied by Dr. Shirley Summerskill, M.P. for Halifax, who is visiting the town especially for the meeting with the Minister.

A Trades Council spokesman said "The unions are very worried about the local situation in wool textile despite comparatively low local unemployment figures. There are signs of permanent contraction in wool textiles and new opportunities are needed especially for younger people."

Mr. Mallalieu will meet the Trades Council's delegates after completing his series of mill visits for the day. He began this morning at Black Dyke Mills, Queensbury of John Foster and Son Ltd, then lunched with the directors of John Holdsworth & Co Ltd, Halifax, later spending some hours at their Shaw Lodge Mills, Halifax.

Halifax Evening Courier and Guardian

, 27th September 1967