Spring Hall, Halifax, West Yorkshire, England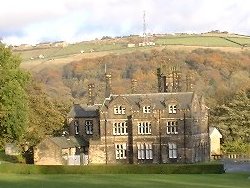 Spring Hall, Halifax, 2000
The History of Spring Hall, Skircoat, Halifax
Spring Hall, Skircoat, Halifax, which is mentioned in documents dating to 1616, was part of the land accumulated over the years by John Holdsworth.
In 1857, the land was divided into four estates.
The estates were Shaw Lodge, where John Holdsworth himself had lived, Shaw Royd, Elm Wood and Spring Hall, each occupied by one of his sons.
It is located conveniently close to the Company in its own grounds between Elmwood and Shaw Lodge.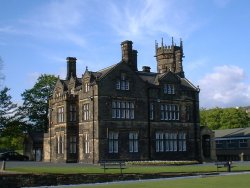 Spring Hall, Halifax, 2002
Spring Hall was the home of Tom Holdsworth which he had rebuilt in 1871 to the designs of William Swinden Barber, a local architect.
Tom inherited the Spring Hall Estate from his father John Holdsworth, the founder of John Holdsworth & Co. Ltd of Shaw Lodge Mills.
Together with his three brothers, Tom worked as a partner in the family textile business but due to ill health he retired from the partnership in 1874 to live quietly in Spring Hall until his sudden death in London in 1881.
Tom's nephew Walter Holdsworth then took up residence but sadly died there after a long illness in 1885.
The Company then passed to Clement Holdsworth in 1887, who lived in another family property, Shaw Lodge and in the 1890's the land adjoining Spring Hall was bought by the Midland Railway Company for use as a goods yard but this development never took place.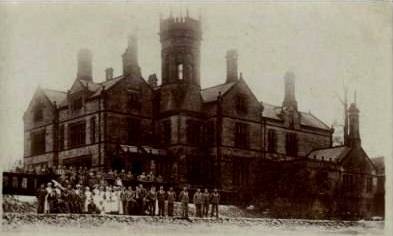 Spring Hall Convalescent and Auxiliary Hospital, Halifax 1916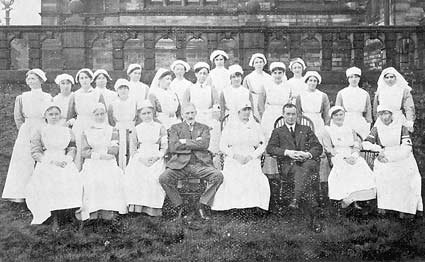 Doctors and nursing staff
Spring Hall Convalescent and Auxiliary Hospital, Halifax 1916
By 1905 Spring Hall was the home of James Booth JP hosiery manufacturer of Lee Mills, Lee Bridge.
Some local homes were given over for use as hospitals during the First World War for wounded soldiers returning from the horrors of the frontlines. Spring Hall served as a Convalescent and Auxiliary Hospital for injured servicemen, staffed by War and Voluntary Aid Detachment nurses, opening on 1st February 1916 with 84 beds, but this rose to 220 beds on 1st April 1917 when nearby Shaw Lodge was added. It treated 3,619 patients before its closure on 28 February 1919. .
In 1919, it was bought by J.H.Whitley as a guest house for his business associates, and he offered it for use as a guest house for young men until 1931.

The house was then unoccupied until 1938 when it was acquired by the knitting wool firm of Patons & Baldwins Ltd.. They used it as a sports facility for their employees and when they moved from Halifax to Darlington in 1948 they presented the mansion and its grounds to Halifax Corporation in commemoration of the long association of the company and its predecessors with the inhabitants and life of Halifax. It then became a school sports ground and the Percival N Whitley Memorial Sports Hall was opened in 1959.
The Northern Ballet Theatre Company moved here for a short time in 1990.

In 2007 one half the site was re-landscaped, and a new running track and athletics facilities were installed.

Presently the building itself is in a sad state of repair.
The grounds are a recreational site, with athletics, tennis, crown green bowling, and soccer regularly taking place.
Since the building of the new fenced-in athletics facility in 2007, it has been no longer possible to play cricket at Spring Hall.
In April 2009, the Calderdale Register Office moved from Carlton Street, where it had remained since 1878, to Spring Hall.