Mill is perfect place for our old treasures

THE search for somewhere to store tens of thousands of museum artefacts could soon be over.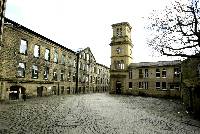 Museum plans: Shaw Lodge Mills, Halifax
27 Mar 2009, By Michael Peel, Halifax Evening Courier
Experts have identified Shaw Lodge Mills, in Halifax, as the most suitable site and are ready to proceed with a detailed feasibility study.
It could also house Calderdale's extensive archives and become something of a visitor attraction, according to community services director Kersten England.

"There are considerable similarities between the requirements for museum and archival storage which might indicate possibilities in terms of co-location," councillors have been informed.

Calderdale Council has spent years looking for somewhere to store and display objects ranging from vintage frocks and paintings to furniture and industrial machinery.
Unless somewhere is found soon, councillors have been warned that the museum service could lose its official accreditation and access to funding.
Last summer, councillors decided to build a new library in Halifax putting a huge question mark over the archives which are kept in the same building at Northgate.
It was recommended that a purpose-built museum store should be built in Station Road, Sowerby Bridge, but that site is now to be used for a new swimming pool.

In a report to the council's community services scrutiny panel, Ms England says the largely vacant Shaw Lodge Mills, which date from the early 1800s, would meet the basic requirements for a museum store. It would enable four smaller stores to be closed and cut costs.

"A feasibility study would more fully establish the viability of the proposal," she said.

Council officers have had meetings with the owners of the mill complex, St James Securities, of Leeds, since they offered to make a weaving shed available.
The company has long-term plans to create hundreds of homes at Shaw Lodge as part of a huge "urban village", for which planning permission exists.

The mill was for 186 years the home of John Holdsworth and Company until the company, which once employed 2,000 workers on the site, closed last year.
Halifax Labour MP Linda Riordan, who has an office in the mill, said she had suggested it as a museum store in 2006.
"It think the archive should stay where it is but what better place to put museum artefacts than an historic mill, where they can be studied by the public," she said.
With acknowledgement for narrative contributions from Michael Peel at The Halifax Evening Courier.