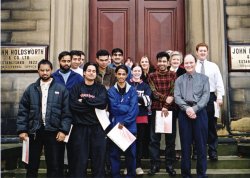 Members of Staff with their NVQ awards
John Holdsworth & Co Ltd,
Shaw Lodge Mills, Halifax
2 Feb 2001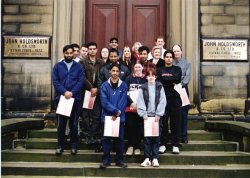 Members of Staff with their NVQ awards
John Holdsworth & Co Ltd,
Shaw Lodge Mills, Halifax
2 Feb 2001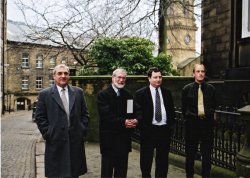 NVQ Awards Presentation
Alan Yarker, ?, David Midgley, Jim McNeil
John Holdsworth & Co Ltd,
Shaw Lodge Mills, Halifax
2 Feb 2001
STAFF at a Halifax firm were presented with their NVQ qualifications in manufacturing textiles by the company chairman Mrs Didian Holdsworth.
Twenty-one employees of textile manufacturing company John Holdsworth & Co Ltd received their NVQ level two awards.
Ms Paula Smith, 25, gained her NVQ level three and passed a textile instructor course which enables her to teach.

Mr Majid Khan, 24, who was taking part in a national traineeship, gained his level two award, and Mr Tony Appleyard, head supervisor in weaving at the company, gained an Institute of Occupational Safety and Health managing safely qualification.
The textile manufacturing company encourages its new employees to take the course accredited by the Huddersfield and District Textile Training Group.
The scheme, co-ordinated by Calderdale and Kirklees Training and Enterprise Council, offers on-the-job training for the under 25s.
"The benefits of the courses are that employees learn on site about the company as well as having structured modular training," said personnel director, Miss Ingrid Holdsworth.
Also at the presentation were Mr Jack Yarker, chief executive of the Huddersfield and District Textile Training Group, managing director Mr. Michael Holdsworth, personnel director Miss Ingrid Holdsworth, and production director Mr. David Holdsworth.