Marriage of Miss Mabel Highley & Mr George B Holdsworth

Marriage of Miss Mabel Highley & Mr George B Holdsworth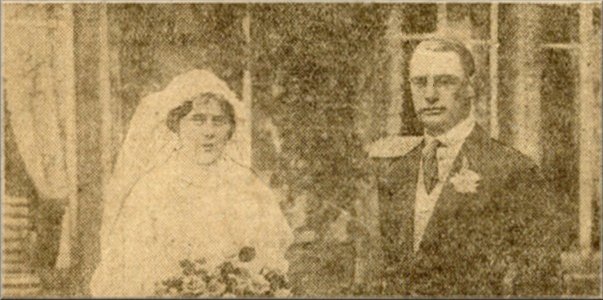 Marriage of Miss M Highley & Mr G B Holdsworth
Photograph - By courtesy of the Leeds Mercury
The wedding was quietly solemnised on Tuesday at Christ Church, Harrogate, between Mr. George Bertram Holdsworth, eldest son of Mr. Clement Holdsworth, of Netherside Hall near Skipton, and of Shaw Lodge Mills Halifax, and Miss Mabel Highley, younger daughter of the late William Highley of Halifax. The bride was given away by her uncle Mr. John Ambler of Halifax and was attended by Miss D. Highley (sister), Misses C.G. and F.G. Holdsworth, sisters of the bridegroom and two pages, Miss Vivian Thornes and Master K. Groom.
The bridegroom was attended by Major E.M. Huntriss as best man with Captain N.H. Moore and Captain Hugh Holdsworth (brother) as groomsmen. The service which was fully choral was conducted by the Rev. A.J. Groom, uncle of the bridegroom assisted by Canon A.E. Burn, D.D. vicar of Halifax, and the Rev. J.W. Cockerill. After the wedding a reception was held at the Granby Hotel, Harrogate, and later the bride and bridegroom motored to Scotland where the honeymoon is to be spent. They will in the near future take up their residence at Shaw House, Halifax.
The employees of Shaw Lodge Mills are being given a holiday today with full pay in celebration of the event.
As reported in THE HALIFAX GUARDIAN 7 June 1919