Extract taken from The Industries of Yorkshire - 1890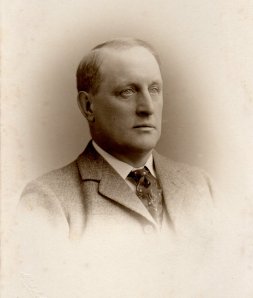 Clement Holdsworth, 1855-1920
John Holdsworth & Co., Spinners and Manufacturers of Worsteds, and Makers of Damasks, Reps, Tapestries, Curtains, Table Covers, Carriage Cloths, Shaw Lodge Mills, Halifax.
One of the largest houses in Yorkshire engaged in the special lines of manufacture above indicated is that of Messrs. John Holdsworth & Co., of Shaw Lodge Mills, Halifax.
This important concern originated upwards of sixty years ago under the auspices of Mr. John Holdsworth, who was assisted and eventually succeeded by his four sons. These gentlemen carried on the business for many years conjointly, but the house is now under the sole control of Mr. Clement Holdsworth, who is the only surviving son of the founder's second son, George Holdsworth and who personally directs the business with increasing success under its original title.
The premises occupied at Shaw Lodge Mills are very extensive, and comprise several large blocks of buildings of imposing dimensions. The principal block is one of no less than six storeys in height, and in extension is upwards of a quarter of a mile long. Adjoining this there is an immense range of weaving sheds, some 400 yards in length: and the warehouses connected with the establishment are seven storeys high, and cover a great area of ground. From these figures in regard to the size of the premises some idea may be formed of the remarkable magnitude of Messrs. Holdsworth's business.
A still more striking illustration in the same connection is found in the fact that over 30,000 spindles and 300 looms are constantly at work in the mills and weaving sheds, and that regular employment is afforded to a staff of about 2,000 hands. There are in reality three distinct mills at Shaw Lodge, and each one is equipped in the most complete and effective manner, the immense plant of improved machinery in operation giving altogether exceptional productive faculties.
In close proximity to the mills are situate the handsome, commodious, and self-contained offices of the firm, where the clerical staff employed is commensurate with the commercial routine requirements for business so varied in its operations and so far-reaching in its mercantile scope and influence. The industry carried on embraces the spinning largely of fingering, knitting, and other yarns and the manufacture of worsted cloths, serges, damasks, reps, tapestries, curtains, table covers and carriage cloths For these productions Messrs. John Holdsworth & Co. maintain an unsurpassed and world-wide reputation; and for great excellence in the manufacture of the same they have been awarded eminent medallic honours at the exhibitions of London, 1851 and 1862, and Bradford, 1882; also the London Clothworkers' Gold medal.
The trade of the firm is universal, extending as it does to all parts of the United Kingdom, the United States, Canada, Australia, and the European Continent, and shows still further indication of increased development. Their London Warehouse is 41, Gutter Lane. Bradford Warehouse is in Peel Place, and their telegraphic Address is Holdsworth, Halifax.