Shaw House, Halifax, West Yorkshire, England

The History of Shaw House, Shaw Hill, Halifax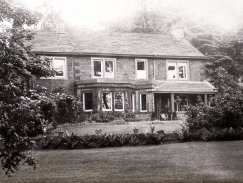 Shaw House, Halifax in 1918
Shaw House - the property enclosed by Shaw Lane, Gaukroger Lane and Simmonds Lane, was bought by private treaty in 1871.
The land was sold to the local borough council in the 1960's and a tower block was erected on the site.
Prior to its sale, the house was occupied by Dr. Joe Laycock, Patricia Mary (Paddy, née Holdsworth) and their family, Pat, Deidre and Gillian. The family moved in the 1960's to live above the medical practice at Park Road Surgery, Halifax.
From the Photograph Album

Shaw House, Halifax, 1918

Shaw House, Halifax, 1918

Shaw House, Halifax, 1918

Shaw House, Halifax, 1918

Shaw House, Halifax, 1918

Shaw House, Halifax, 1918

Shaw House, Halifax - sketch by J.L. Berbiers, 1967
from the Halifax Evening Courier and Guardian
18 Dec 1968