Victoria and Albert are back in Pride of Place in Halifax Town Hall, 9 Sept 2008

Victoria and Albert sculptures are back on show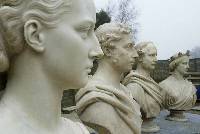 The four marble busts, from the left:
Alexandra, Edward, Albert and Victoria
Photo: Jim Fitton, Halifax Evening Courier
Four marble sculptures of Queen Victoria and her family that were stored for over 50 years are put back on display.
The marble busts of the Queen, her husband Prince Albert, their son Albert Edward and his wife Alexandra were stored in the basement
of Halifax Town Hall when it was redecorated in 1954.
Now, after 50 years in storage, the busts have been caringly restored and returned to their rightful place, large as life in the Victoria Hall.
In 1863 the Mayor of Halifax, Alderman John Crossley, presented three of the busts to the people of Halifax to commemorate the opening
of the town hall by Albert Edward, Prince of Wales, who became Edward VII.
The following year Alderman William Holdsworth presented the bust of Prince Albert.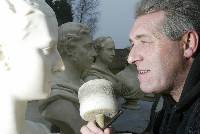 Andrew Barraclough
who restored the four statues
Photo: Jim Fitton, Halifax Evening Courier
Direct descendants of the two mayors took part in the official unveiling on September 6.
Alderman Crossley was represented by Ben Crossley who unveiled Albert Edward and Alderman Holdsworth was represented by family
member Miss Ingrid Holdsworth, who unveiled Prince Albert.
The Lord Lieutenant of West Yorkshire, Dr. Ingrid Roscoe, unveiled Queen Victoria and the Mayor of Calderdale, Conrad Winterburn, unveiled Princess Alexandra.
Mr Crossley, of Cumbria, the great-great-great grandson of Alderman John Crossley who was mayor in 1862-3 said:
"I am very proud I have been asked to take part in the event. It is great to represent the family and its history."
"I am humbled to have unveiled one of these marvellous busts and proud to be the relative of a mayor who did so much good for the town."
Mr Crossley, governor of Crossley Heath School which his ancestors set up, added:
"When you look back and see what they did, it can make one question your own achievements, but really it just makes you happy."
Miss Holdsworth, who still lives in Halifax, said:
"It is a great honour and privilege to be invited to do such a thing, and really gives one a sense of history. The family is still very much based in Halifax and this is a very proud moment"
The statues, created by eminent sculptor Marshall Wood, and which had become badly discoloured over the years were painstakingly restored by Andrew Barraclough of Southowram.
The busts are now on permanent display in the Victoria Hall of the Halifax Town Hall from September 13, 2008.
With acknowledgement for narrative contributions from Colin Drury and photographic material from Jim Fitton at The Halifax Evening Courier, 27 Aug, and 9 Sep 2008, and photographs and event brochure from Karen Burton at Calderdale MBC.
From the Photograph Album

Statue of Prince Albert
in Halifax Town Hall


Statue of Queen Victoria
in Halifax Town Hall


Statue of Prince Albert Edward
in Halifax Town Hall


Statue of Princess Alexandra
in Halifax Town Hall, 6 Sept 2008


Dr Ingrid Roscoe unveiling Queen Victoria
in Halifax Town Hall, 6 Sept 2008


Miss Ingrid Holdsworth unveiling Prince Albert
in Halifax Town Hall, 6 Sept 2008


Ben Crossley unveiling Albert Edward
in Halifax Town Hall, 6 Sept 2008


Councillor Conrad Winterburn unveiling Princess Alexandra
in Halifax Town Hall, 6 Sept 2008


Dr. Ingrid Roscoe
receiving a momento from
The mayor of Calderdale, Cllr. Conrad Winterburn
in Halifax Town Hall, 6 Sept 2008


Miss Ingrid Holdsworth
receiving a momento from
The mayor of Calderdale, Cllr. Conrad Winterburn
in Halifax Town Hall, 6 Sept 2008


Ben Crossley
receiving a momento from
The mayor of Calderdale, Cllr. Conrad Winterburn
in Halifax Town Hall, 6 Sept 2008


Andrew Barraclough who carried out the restoration
receiving a momento from
The mayor of Calderdale, Cllr. Conrad Winterburn
in Halifax Town Hall, 6 Sept 2008