WILLIAM HOLDSWORTH 1922-1969

---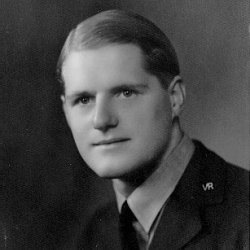 Bill Holdsworth, 1922-1969
Flight Lieut. William Holdsworth of Scargill House, Kettlewell, Nr. Skipton, Yorkshire
and of Bellinter Park, Navan, Co. Meath, Ireland
1922 - 1969
William Holdsworth was third and youngest son of George Bertram Holdsworth. Like his elder brothers John and Michael, he was educated at Lockers Park, Hemel Hempstead and at Harrow in Newlands House 1936-40, under firstly Rev. D.B. Kittermaster M.C. then F.W.T. James.
Known as 'Bill', William left Harrow in 1940. He worked briefly in an aircraft factory while waiting to join the R.A.F. where he became a Spitfire pilot. He rose to the rank of acting wing commander before serving at R.A.F. Thornhill, Gwelo in Rhodesia where he trained other pilots. Bill fell in love with the country and dreamt of returning there to farm after the war. But then John was killed. His dream fell apart and he was faced with the responsibility of returning to Halifax to take over the business.
Bill was vice-president of the Halifax Textile Society and a past president of the Halifax Fly-Fishing Club of which he was co-founder.
He was also a key member of Kilnsey Angling Club, 1946-1958.
Among his other interests he was past-president of the Upper Wharfedale Agricultural Society.
A keen sportsman, he enjoyed shooting, fishing and farmed extensively in Wharfedale and Ireland.
Bill was vice-president of the Skipton branch of the Royal Air Force Association.
From the Photograph Album

William Holdsworth
on 'Ginger' at Catteral Hall

Swimming bath at Lockers Park
William Holdsworth on right. ca.1935

The Bentley Mark VI Coupe by Abbott of Farnham
Reg. BCP 555

DMH's Austin Atlantic A90, green


Scargill House
The Cottages viewed from the house

Scargill and Cottages, 1953


Kettlewell, 1953


Bedford 'Dormobile'


Gwynreta
on Norfolk Broads

Gwynreta
in Denmark

Gwynreta
at Marken, Holland

Bill Holdsworth in Spitfire over Germany

Bill Holdsworth, Didy Holdsworth
Terry Spencer's wedding

The Family
DWH, JMH, IRH, DMH, KRH, HIH, and 'Flip'1953

DMH, Jack Kuperus, Mrs W.C. Kuperus,
Jan van der Sterr
on Gwynreta in Amsterdam

DMH, Jack Kuperus, Mrs W.C. Kuperus,
Bill Holdsworth
on Gwynreta in Amsterdam

Bill Holdsworth and Dina Maria Kuperus,
Amsterdam 1946

Bill Holdsworth and Dina Maria Kuperus,
Amsterdam 1946

The Civil Wedding, Bill Holdsworth
and Dina Maria Kuperus,
Amsterdam 1946

Bill Holdsworth and Dina Maria Kuperus,
Amsterdam 1946

John Michael Holdsworth

Ingrid Rona Holdsworth

David William Holdsworth

David William Holdsworth

H.R.H. Princess Elizabeth,
Lord Mackintosh of Halifax, William Holdsworth
ca. 1950


William Holdsworth and family
Bill and Didy,
Michael, Howard, David, Ingrid & Kirsten (on knee),
and Flip.
At Scargill House, 1954


William Holdsworth,
Bentley Crash, 30 April 1959

William Holdsworth,
Bentley Crash, 30 April 1959

William Holdsworth,
Announcement of his death, Nov 1969