RUPERT LINDSAY BETHUNE HOLDSWORTH

---
Rupert Lindsay Bethune Holdsworth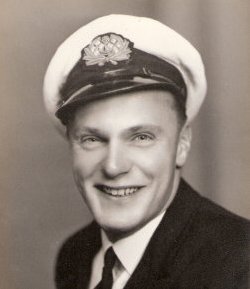 Rupert L B Holdsworth in uniform
Rupert Lindsay Bethune Holdsworth, (nick-name "Winks"), the fourth child of Hugh Reginald Holdsworth and Dorothy Anne Frances née Bethune.
Born 1 April 1930, 21 Savile Road, Halifax
Educated at Bramcote preparatory school in Scarborough (where his brother David had gone before) and subsequently at the Nautical College, Pangbourne, Berkshire.
Married to Nan
Resides in Onemana, North Island, New Zealand.
Three children; 1 son, 2 daughters.
1. Nick,
2. Phillipa (Pip) Mary Holdsworth [b. Aukland, 2 Nov 1958] m. Simon Julian Wall [b. Palmerston North, 2 Jun 1954] on 12 Apr 1980. 3 sons.
Twins, Matthew George Holdsworth Wall and Hamish Harry Holdsworth Wall [9 Jan 1992], Nicholas Edward Holdsworth Wall [22 Dec 1995].
3. Susie. m. Denis Massey.
Rupert joined the New Zealand Shipping Company, part of the P and O group, as an apprentice in 1948 and sailed with them until 1955 when he joined the Union Steamship Company of New Zealand.
Sailed on the delivery voyage to NZ of a new ship built in Leith, Scotland.
Came ashore permanently in NZ and married in 1956.
Rupert returned to the New Zealand Shipping Company working mainly in their Head Office in Wellington where he held a variety of management positions until retirement in 1991.
From the Photograph Album