KIRSTEN ROSELYN HOLDSWORTH

---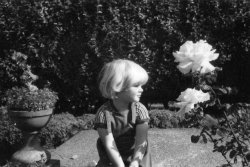 Kirsten Roselyn Holdsworth, 1956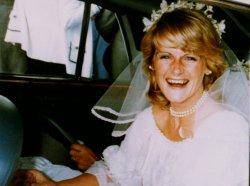 Kirsten Roselyn Bulloch, 1984


Kirsten Roselyn Bulloch
Kirsten Roselyn Holdsworth

[14 October 1953 - 10 February 2009]
[1953-2009] Kirsten Roselyn, fifth child of William Holdsworth, and Dina Maria Holdsworth
Born 14 Oct 1953 in Skipton Hospital, and christened at St. Oswald's Church Arncliffe, Nr Skipton by Eric Treacy, MBE, Archdeacon of Halifax; who became renowned as " The Railway Bishop".
Kirsten's godparents: Brian and Pauline Johnston, and Edmund and Tina Butler.
Kirsten, delightful girl, adorned with golden blonde hair and dazzling blue eyes, spent the early years of her life at Scargill House, Kettlewell.
When the family moved to Bellinter Park Ireland, she loved all aspects of the country life, especially the farm animals. Her great joy was to be there for the lambing and tending to the livestock. She was even known to stay up all night waiting with the sow for the piglets to arrive. On one occasion coming into her parents' bedroom at the crack of dawn with a new-born piglet in her arms. Kirsten loved being with the dogs; or cycling to the Hill of Tara and took great pleasure in riding her pony "Beauty" a gift from her Godfather; becoming an accomplished horsewoman, which she continued all through her life.
Kiki was educated privately in Ireland, and on the family's return to Yorkshire she attended Queen Ethelburga's College, near Harrogate, one of the UK's leading private schools for girls. The change from countryside to town-life, was for Kirsten an unhappy experience. However with her usual courage and determination, she got on with her life, always out and about, with numerous memorable excursions into the dales with friends. The teenage years through to her coming of age was a period of time that was great fun for Kiki, as one after another they celebrated milestone birthdays, and Kiki was always the life and soul of the party. Many of her friends well remember the great parties held in the cellars at Heath Villas.
Just after her 16th birthday, her father William Holdsworth died suddenly, which had a deep impact on her. Shortly after, she decided to finish her education in France, and this opened a whole new world for Kirsten, which gave her an international dimension to her education. Kirsten continued with her travelling, always making friends in the countries she visited, especially in Holland, where her grandparents, and uncle Rudy Kuperus were her anchor.
After her many adventures, Kiki decided to settle down in London. She was working with architects which she thoroughly enjoyed and became quite knowledgeable. It was during this time that she met her future husband Scott. She was living in a flat in Putney, and though her perseverance, no doubt drawing on her experience in Belgium, she was eventually able to buy the entire house. This soon became a great centre of activity and fun.
Kirsten and Scott were married in Halifax on 31 March 1984; the day of the Grand National, and it was to everyone's great amusement at the reception when her brother Howard presented her with her winnings; his top hat brimming with notes. [The winner was 'Hallo Dandy' at 13/1]
After several years of working in different countries, Scott and Kiki settled permanently in Kenya. Kirsten grew to love the life in Kenya, and all that had to offer; lifestyle, people, animals and the vast open-ness.
Scott and Kirsten bought land on the Indian Ocean at Kilifi, where Kirsten's architectural talents came to life; she created a most beautiful and heavenly place out of the sand-dunes.
Kiki was a loving and caring mother, who held great pride in her children, Jonathan, Leah, Isabel and Daisy.
Kirsten became god-mother to Portia Morey and Imogen Margaux Oppe.
Eight and a half years ago, Kirsten underwent an operation which resulted in her being in ill-health for the remainder of her life. Kirsten being "in Hospital" became the norm rather than the exception, which became a tremendous strain on all the family. She continued to fight the virus and lasted these years with her true courage, inner strength and great fortitude. On 10th February she ran out of strength and succumbed to the infection, and passed quietly away in Nairobi. Her funeral took place on 18th February. She was cremated and her ashes now lie at her beloved house in Kilifi; the place she loved the most of all.
A service of thanksgiving for Kiki's life, attended by many of her friends and relatives was held in St. Mary's Church, Kettlewell on 5th April 2009.
The Notice
With deep sadness the Family announce that KIRSTEN ROSELYN, Aged 55, died suddenly in Nairobi on the 10th February 2009.
Wife of Andrew, beloved mother of Jonathan, Leah, Isabel and Daisy. Loving grandmother to Sadie and mother-in-law to Jane.
Adored younger daughter of Didy and the late William and a much loved sister to Michael, Ingrid, Howard and David.
The funeral took place in Nairobi, on 18 February 2009, and a service of thanksgiving was held in Kettlewell on 5 April 2009.
---
From the Photograph Album

All the family at Scargill
1954

All the children at Scargill
1953

Kirsten Holdsworth
1953

Kirsten Holdsworth, Christening
1953

Kirsten Holdsworth, Christening
1953

Kirsten Holdsworth, Christening
1953

Kirsten Holdsworth
Sept 1954

Kirsten Holdsworth's First Birthday
Oct 1954

Kirsten Holdsworth, with District Nurse M. Bunnett
at Scargill House, Kettlewell, 1955

All the children at Scargill
Christmas, 1955

Kirsten Holdsworth
1955

Kirsten Holdsworth
1955

Kirsten Holdsworth
1956

Kirsten Holdsworth
1956

Kirsten Holdsworth
1956

Kirsten Holdsworth
1956

Kirsten Holdsworth
1956

Kirsten Holdsworth
1957

Kirsten Holdsworth
1959

Kirsten Holdsworth
1959

Kirsten Holdsworth
1957

Kirsten Holdsworth
1959

Kirsten Holdsworth
1959

Kirsten Holdsworth
1959

Kirsten Holdsworth
1959

Kirsten Holdsworth
1959

Kirsten Holdsworth
1960

Kirsten Holdsworth
1960

Kirsten Holdsworth
1960

Kirsten Holdsworth
1960

Kirsten Holdsworth
1960

Kirsten Holdsworth
1960

Ingrid, Didy & Kirsten Holdsworth
1960

Ingrid & Kirsten Holdsworth
1960

Ingrid & Kirsten Holdsworth
1960

Kirsten Holdsworth at the East Yorks Seaside
1970

Kirsten Holdsworth
Vinaroz, Spain, 1972

Kirsten Holdsworth
Stonehenge, 1973

Kirsten Bulloch, 31st March 1984
Always Happy with life

Kirsten Bulloch, Mum, brothers & sister,
Didy and Michael's Birthday Party, 17 June 2007

Kirsten Bulloch, Janice Holdsworth
Didy and Michael's Birthday Party, 17 June 2007

Didy Holdsworth and Kirsten Bulloch,
Kilifi, Kenya, 25 Dec 2007

Carrie Hennessy with Kirsten Bulloch,
Daisy's 21st, Kenya, May 2008

Didy Holdsworth and Kirsten Bulloch,
Kilifi, Kenya, 27 Dec 2007