KATHLEEN MARIAN HOLDSWORTH [1882-1946]

---
Kathleen Marian Holdsworth
[1882-1946]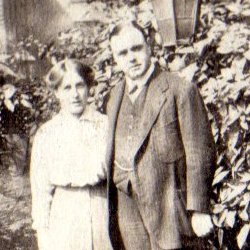 Kathleen and Charles Selborne Walker, 1915
Kathleen Marian Holdsworth, third child of Clement Holdsworth.
Born 11 Jan 1882.
Married Capt. Charles Selborne Walker, (R.F.A. (T.F.)), son of Fredrick Walker of Ovenden Hall,
on 28 Sep 1904 at Halifax Parish Church.
Kathleen Marian Walker died on 19 Nov 1946.
Kathleen and her sister Consie attended finishing school in Dresden and Heidelberg.
From the Photograph Album