JOHN HOLDSWORTH 1920-1945

---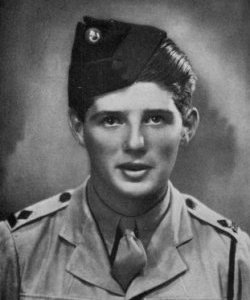 John Holdsworth, 1920-1945
Major John Holdsworth, M.C.,
[9 March 1920 - 2 March 1945]
117672, 2nd Bn., Kings Royal Rifle Corps.
John Holdsworth, eldest son of George Bertram Holdsworth, and Mabel Holdsworth.
Born: 9 March 1920.
Killed in Action: 2 March 1945.
The eldest son of George Bertram Holdsworth, John was groomed to take over the family business.

Educated at Lockers Park, Hemel Hempstead, at Harrow School and Cambridge.
On 3 July 1939 the school certificate register records that 'Mr John started work'. Exactly one month later, war broke out.
In 1942 John Holdsworth was severely injured whilst serving with the KRRC in Africa.
Having been shot by a sniper through the jaw, John survived after a long period of recovery, although disfigured.
Desperate to rejoin his unit, John was allowed to return to service, now on mainland Europe.
In the appalling freezing conditions John fell wounded into a waterlogged trench, and whether through his injuries,
the cold or sheer bloody exhaustion, this is where his life ended, seven days before his twenty-fifth birthday.
Major John Holdsworth was killed on active service on 2 March 1945 at Üdem, on the border between Holland and Germany, aged 24.
John loved fishing, as superbly shown in this memorable photograph below, of a young boy whilst he was still at Harrow School,
having returned to port in Scarborough with a 614 Lb. Tunny Fish caught 110 miles offshore in the North Sea, close to the Dogger Bank.
John's name is inscribed in the Harrow School War Memorial, and the larger window in Saint Mary's Church, Kettlewell is dedicated to his memory.
This window shows John with St George slaying the dragon representing the old enemy death and sin.
They are flanked by St Francis feeding the birds, and St Hubert, a German saint who, it was reputed, saved a stag from the hounds.
John's name is commemorated in perpetuity by the Commonwealth War Graves Commission in the Reichswald Forest Cemetery.
John Holdsworth's Obituary - Taken from The King's Royal Rifle Corps Chronicle 1945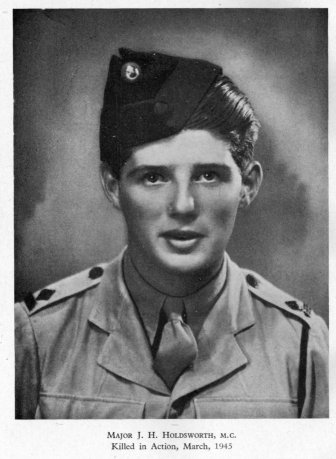 Major John Holdsworth, M.C. 1920-1945
MAJOR JOHN HOLDSWORTH, M.C.
Killed in Action with the 2nd Battalion in Holland, March, 1945.
BY LIEUT.-COL. C. D'A. P. CONSETT, D.S.O., M.C.
Johnny Holdsworth was mortally wounded on 2nd March, 1945, leading B Company of the 2nd Battalion to the successful assault on the Schlieffen Line, which covered the Hochwald Forest.
He was 24 years old, the son of the late Mr. and Mrs. G. B. Holdsworth of Scargill House, Kettlewell, near Skipton, Yorkshire, and was educated at Harrow in Mr. Kittermaster's house. On leaving Harrow he joined the Territorials and when war broke out was called up as a private in the Duke of Wellington's Regiment. In the spring of 1940 he was granted a commission in the 60th, and went to Egypt where he joined the 1st Battalion at the age of 19. It was with this Battalion that he served continuously in the Western Desert from June 1940, to July 1942. He won the M.C. for a gallant action when commanding a Carrier Platoon in December, 1940. In July, 1942, he was severely wounded in the critical days when the Eighth Army first reached El Alamein. He had just taken command of a Company for the first time.
On returning to England he went to the School of Infantry after a short time with the 12th Battalion, where he undertook with great enthusiasm and success the task of training the inexperienced. Many officers of all Regiments will remember his rendering of a Company Commander's orders for the attack. It was while he was at the School of Infantry that he began to study seriously the art of minor tactics at which he became expert. It was a great disappointment to him that he failed to join the Battalion in time for the invasion of Europe.
However, after great efforts, he joined the 2nd Battalion in October 1944, where he commanded B Company until his death.
In early January, 1945, Johnny led the first British offensive patrol across the River Maas in the deep snow and intense cold of that winter. It was a complete success. He and his Company particularly distinguished themselves in the heavy fighting around Üdem at the end of February, but in all his actions he handled his Company with the skill that he learnt from his studies and with the courage that was natural to him. He was a fine leader, demanding the utmost, only satisfied with the best and commanding his men from " in front " and it was there that he was killed.
The effect of Johnny's high spirits and youthful exuberance on the 1st Battalion was infectious. It was not for nothing that he was called "Puppy." He thoroughly enjoyed every moment of the war in the Desert, as indeed he did every moment of his life. Ideas streamed from him, excitedly propounded either for defeating the enemy or for having a good time, whether in the city of Cairo or on the moors of Yorkshire. He was a true child of the Yorkshire dales, delighting in a lonely day deceiving the trout in a beck, or a hard day walking up grouse. Above all it was his capacity for enjoyment, the vitality he lent to the passing hour, that endeared him to his friends, and for which they will remember him. Any stories about Johnny shared by his friends must necessarily end in laughs, for that was the kind of man he was.
The sympathy of the Regiment is given to his only surviving brother in the loss of this gay and gallant officer who served his country well.
From the Photograph Album