JOHN MICHAEL HOLDSWORTH

---
John Michael Holdsworth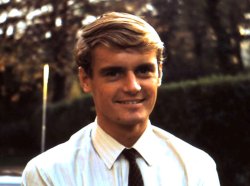 J Michael Holdsworth
[1947- ] John Michael Holdsworth, eldest child of William Holdsworth, and Dina Maria Holdsworth
Born on 29 June 1947 at Scargill House, and christened at Saint Mary's Church, Kettlewell.
Godparents, Lord John Cholmondeley
Educated at Lockers Park, Old Quarries (Avening Glos.), and Newbury.
Married Corrine, daughter of Duncan and Jan Bruce, of Appletreewick, Yorkshire, in 1984.
Two children, John Tristian Holdsworth [24 April 1985], and Johanna Holdsworth [24 May 1987].
In 1972 Michael began attending board meetings.
Became a director of John Holdsworth & Co Ltd in May 1974.
Michael was appointed managing director on Walter Townend's retirement in March 1979.
Vice president Halifax Textile Society for two years; president Halifax Junior Chamber.
Recreation: Shooting, Sailing

Michael and Corrine divorced

On 19 June 2010 Michael married Susan E Hawksworth at Halifax Parish Church.
From the Photograph Album