INGRID RONA HOLDSWORTH

---
Ingrid Rona Holdsworth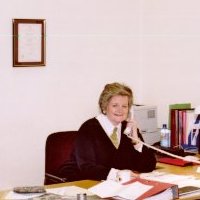 Ingrid Holdsworth, 2001
[1948- ] Ingrid Rona Holdsworth, second child of William Holdsworth, and Dina Maria Holdsworth
Born on 31 Oct 1948 at Scargill House, and christened at Saint Mary's Church, Kettlewell.
Educated at Duncombe Park School, North Yorkshire, and at Birklands School, near St. Albans, Hertfordshire, 1960-1966.
Duncombe Park is the seat of the Duncombe family whose senior member takes the title Baron or Earl Feversham. It is situated near Helmsley, North Yorkshire, England and stands in a commanding location above deeply incised meanders of the River Rye.
The house was completed 1713 to designs by the architect William Wakefield. It was remodelled in 1843 by Sir Charles Barry. In 1879 the main block was gutted by fire and remained a ruin until 1895 when rebuilding was carried out by William Young. The reconstruction was based on the original design, though there were changes made, especially in the interior layout to meet contemporary needs. It is of two storeys with a basement and attic. The building was used as a school between 1914-1930. It is now open to the public and may be hired for civil weddings.
In 1774, Anne Duncombe of Duncombe Park was married to Robert Shafto, of Whitworth near Spennymoor, the famous "Bonny Bobby Shaftoe" of the folk song.

Birklands, a mansion built by Henry Jenkin Gotto in 1883 in the grounds of New House Farm - a 16th century farm notorious as a secret meeting place for nonconformist dissenters during the reign of Charles II. It eventually becomes a girls' boarding school until acquired by Hertfordshire County Council in 1969 for the expansion of the Hatfield Polytechnic.
Ingrid's godmother, Ruth Downing (née Ambler), was a member of the family 'Amblers of Ardsley', one of the last remaining worsted spinners in Yorkshire, which ceased business in the 1990s.
Thomas Ambler &amp Sons in Bradford Road, built Ardsley Mills in 1912-13. Ambler's were worsted spinners founded in Bradford in 1858. The Mill was built here because of the close proximity to a coal supply and a good labour force of women living in the area. Thomas Amblers were a major supplier of wool yarn to John Holdsworth & Co Ltd for their passenger transport moquette manufacture.
Ingrid, after having established a successful career in the city of London, decided to join the family company and in 1995 became director of personnel at John Holdsworth & Co Ltd.
Following restructuring of the business in 2005, Ingrid decided to leave the company to concentrate her efforts on voluntary work in and around Halifax, Yorkshire.
Ingrid became the first lady president of Elland Rotary Club in 2008

From the Photograph Album