GEORGE HOLDSWORTH [1822-1866]

---
George Holdsworth, JP, of Elmwood, Halifax
[1822-1866]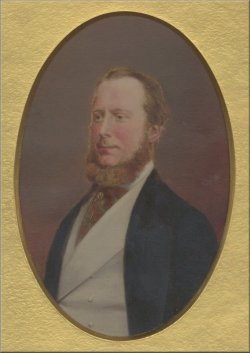 George Holdsworth, 1822-1866
George Holdsworth of Elmwood, Halifax.
Born 8 Feb 1822, the second of the four sons of John Holdsworth.
He was a bell-ringer (campanologist) at the Halifax Parish Church, creating with his brother John, a new record on Mon 1 April 1856.
He died 24 Nov 1866 and was interred in the family mausoleum at All Saints' Church, Salterhebble, Halifax.
George Holdsworth married Hannah Judith Turney at Halifax Parish Church on 25th January 1848.
In 1851 census, resident at 2 Stony Royd in the township of Southowram, George Holdsworth 29, stuff merchant,
Hannah Judith also 29, Lucy Georgina 2 and Walter 2m. (Public Record Office HO 107/ 2297 p.10)
Children: 3 sons, 4 daughters:
Lucy Georgina,
Walter,
Emily,
Fanny,
Clement,
Arthur and
Gertrude.