DAVID WILLIAM HOLDSWORTH

---
David William Holdsworth, of Middle Pasture, Halifax
[1952]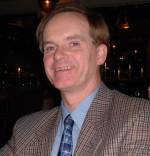 David William Holdsworth, 2002
David William Holdsworth, of Middle Pasture Halifax, fourth child of William Holdsworth, and Dina Maria Holdsworth
Born on 27 Jan 1952 at Scargill House, and christened at Saint Mary's Church, Kettlewell.
Educ:
Lockers Park Preparatory School, Hemel Hempstead; Harrow; University of Nottingham (B.Sc. Physics); UMIST (B.Sc. (Hons.) Textile Technology.)

David married Janice Middleton, daughter of George Middleton of Halifax on 30 Nov 1985 at St. John's Church Warley; the service was led by Rev. Frank Carless.
David and Janice have three children,
James William [27 May 1986],
Charles David [16 Jan 1989] and
Holly Louise [31 Dec 1993].
Career:
David joined his brother Michael at Shaw Lodge Mills in 1972 to become general manager of John Holdsworth & Co Ltd in 1981. In 1983 David was appointed production director, the position in which he remained for 22 years.
Following a downturn in UK manufacturing, in 2005 David took up the new role of Sourcing and Logistics Director, to increase the company's product portfolio
with complimentary products produced in low cost countries, especially from South-East Asia.
Following business restructuring in 2007, David decided to branch out on his own, and set up a manufacturing consultancy, Textile Innovations Ltd.
Member Federation of Small Businesses since 2007 (Calderdale Branch Secretary 2012-2016, Branch Chairman 2014-16.)
Member of Halifax Textile Society 1972-2008 (President 2006-2008)
Member of Halifax Crime Prevention Panel 1982-2005 (Chairman 1997-2005)
Member of All Saints' Halifax Parochial Church Council 1998-2007
Recreation: Music; Photography; Sailing; Horses; Amateur Radio; Information Technology, Travel & Languages.
Member Halifax and District Amateur Radio Society 1979-2000

From the Photograph Album

Kirsten Holdsworth, Richard Coughlan
& David Holdsworth
at Bellinter Park, Navan. 1959
Richard, a schoolfriend of Michael Holdsworth


David Holdsworth
at the White Rose Ball, Harrogate 1978



David Holdsworth, Michael Holdsworth
at the Güsken factory in Dülken, Germany
1980



David Holdsworth
at 'The Peak' Hong Kong
1 April 2006



Caruso Chen, John Simpson, Mrs Amy Chen
Scott Pan, David Holdsworth
at Well Paen in Chang-Hwa City, Taiwan,
3 April 2006



At the Taipei 101 tower Taipei, Taiwan
3 April 2006



David Holdsworth, Ade Suraya Manan, Freddy Tan
PT. CJ GLS, Indonesia handling agent
at Ateja Corp, Bandung Indonesia, Feb 2007



David Holdsworth
at Ateja Corp, Bandung Indonesia
Indonesia Independence Day, 17 Aug 2007



Susianti Oktaffie & David Holdsworth
at the Petronas Towers, Kuala Lumpur, Malaysia
7 Feb 2007


David Holdsworth & Janice Holdsworth
at home, Aug 2008


David Holdsworth on Kissy
at Fly Laithe, Aug 2008