About Halifax & Calderdale in West Yorkshire

HALIFAX - In the Centre of Calderdale, The site of the present complex of mills
Calderdale, Yorkshire.

- Heartland of England.

- Centre of the English Woollen Industry.

- Birthplace of the Industrial Revolution.

- A history and a proud tradition.
Halifax is located south west of Bradford where the Hebble valley flows south to join the Calder. It was a town that grew because of the cloth trade and even its name derives from Haly Flex Field meaning the place where holy banners were made from flax. In 1175 Halifax was called Haliflex. The area is steeped in history and filled with the character of ancient weavers' cottages and fascinating stories, such as those of Cragg Vale Coiners or the Luddites.
The district's main town, is one of the original textile towns where the woollen industry of England was first established. A town today of 90,000 people, the inheritors and heirs to a heritage of craftsmanship, skill, design and quality.
A town with a soul; not beautiful but with a character all of its own. A character created by the mills built in the nineteenth century in the dark grey stone of the area, of factory chimneys, of cobbled streets, the sound of weaving looms and the smell of wool.
Halifax has a spectacular location in among the hills and one of the best views can be obtained from neighbouring Beacon Hill. Nearby is Shibden Hall in Shibden Dale which was the fifteenth century home of the Otes family. For the next 300 years it was owned by the Listers who lived there until 1933.
Halifax reflects this prosperous past in the many buildings and mills built by the wealthy Victorian magnates.
Halifax is today at the heart of a beautiful and vibrant region. The area established its wealth on its flourishing textile and engineering industries during the 18th and 19th centuries when the Pennines were the industrial backbone of Britain.
With its industrial heritage, canals and stretches of bleak south Pennine moorland, Calderdale has a unique and diverse character which has inspired such writers as the late Poet Laureate, Ted Hughes, Daniel Defoe and Emily Bronte one of the tragic Bronte sisters.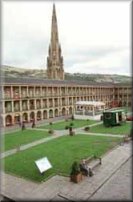 The Piece Hall, Halifax
where it all began in 1779
Halifax is a busy town well known for its shopping arcades and markets.
Notable buildings in Halifax include the old Piece Hall a quadrangled hall with 315 rooms dating from 1779.
Here cloth merchants displayed pieces of cloth for sale on market days.
In 1871 the open space within the massive hall became the site of a fruit and vegetable market.
The Town Hall of 1863 was built by Charles Barry who built the Houses of Parliament.
Wainhouse tower, an elaborate factory chimney built for a dye house that was never used dates from 1871.
Two churches of note in Halifax are All Souls, built by Sir Gilbert Scott and the fourteenth century Church of St John the Baptist where a lifesize wooden figure of a seventeenth century Halifax beggar called Old Tristram can be seen.
There are some Georgian houses in Halifax including Somerset House in George Street while older buildings include the Union Cross Inn, first mentioned in 1535, whose notable guests include Daniel Defoe and John Wesley.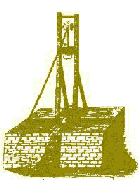 The History of the Parish Town of Halifax
The remains of the Halifax Gibbet can be seen in Gibbet Street. Relinquished in the seventeenth century, the gibbet was originally used to protect cloth makers from theft. Anyone found guilty of stealing cloth had their heads cut off at the guillotine-like gibbet.

It is said that the blade of the Halifax Gibbet (which was actually a headsman's axe) severed 49 heads between 1540 - 1650, two hundred years before Monsieur Guillotine invented it. It worked by the dropped weight of the blade and usually without the assistance of a town executioner.

A form of collective responsibility reigned in that a rope was attached to a horse who was then encouraged to 'giddy up' by the assembled crowd. Rough justice prevailed in that if the condemned had stolen a sheep, a sheep drew the blade; and if a common thief then the right was given to the robbed tradesman. From whence came the thieves litany: 'From Hell, Hull and Halifax, good Lord deliver us.'
The gibbet is now on display in the Piece Hall.

Local museums in Halifax include the Bankfield Museum, with a collection of textiles, the Calderdale Industrial Museum and a Museum of Childhood.
Halifax has a Town Crier
Ben Cordingly was the last town crier, or bellman, and he retired in 1908 after 28 years of service. He died in 1916. His job was not a ceremonial one however - he cried announcements of forthcoming events, gave descriptions of lost property and even - according to one account - at least 300 appeals for help in finding lost children.
Les Cutts is the present town crier, following in the footsteps of Ben Cordingly and famous criers before him like Blind David and Nat Crier (real name Nathaniel Schofield).
Les designed his uniform - more usuallly called a livery - himself, basing it on old pictures of Ben Cordingly's outfit. Note that his scroll is wound around an old bobbin (see picture). Les writes his own "cries" and he will be seen in action at many traditional events in Halifax. Look out for him in his distinctive blue and red livery.
To discover more click here.
Halifax and the Silver Screen
Over the years Calderdale has become a favourite location for film makers. If you are on the lookout for a place to shoot your next Box Office blockbuster this is the place to come. Or you like to visit places where your favourite film or TV series was shot, you will find that a number of countries best loved films and TV dramas were shot right here in Calderdale. It's nice to say when you see that repeat on Television "I walked down that street."
Using Calderdale as a film location goes back many years. The first one we found was a film called A Boy, A Girl and A Bike shot in Hebden Bridge. Halifax and Calder Valley in 1949.
Other films like "The Dresser" was filmed on location in Halifax, and another film from 1958 which was shot in Halifax Town Hall and the Station called "Room at the Top".
In the 60's a film called "No Love for Jonny" was filmed in Halifax. In recent years the Blockbuster "Brassed Off" had the Competition scene filmed at the Piece Hall Halifax.
Together with unspoilt scenery and buildings going back 200 years this makes the ideal backdrop for any shoot. We also have many stretches of cobbled street still intact and preserved in their original state ideal for period dramas or that bygone era look.
Films that were taken in and around Holdsworth's Mill"

Year

Title

Review

1947

Fame is the Spur

Michael Redgrave plays a politician who sells out all his ideals
in this thinly disguised portrait of Ramsey MacDonald. Well-made
film and it's fascinating to see just how painful the wounds left
by MacDonald still were in the forties. (From Howard Spring's best seller)
Directed and produced by Roy and John Boulting
Players: Michael Redgrave & Rosamund John star with Bernard Miles,
Carla Lehmann, Hugh Burden, Marjorie Fielding, Seymore Hicks, David Tomlinson,
Wylie Watson, Kenneth Griffith, Honor Blackman

1977

How We Used To Live

Yorkshire Television

How We Used to Live has been running on the UK educational television
for some years, following the lives of people in a small town in the North
of England. They are well produced and accurate as far is possible.
They use the preserved steam railways and industrial museums as the
backgrounds for the series, as well as the countryside in and around Yorkshire.
Even though this is a made for educational television series the acting is of a high standard, showing that the people who produce the programme have not stinted with the production.

1981

Fame Is The Spur

BBC drama series following the fortunes of three young men born in
the Victorian Manchester slums and set against the background of the
early Labour movement. Starring Tim Pigot-Smith, Joanna David,
David Hayman and Julia McKenzie.


1984

Ours To Keep

Hummingbird Films / BBC

Educational programme for schools. Producer/Director, JENNI BURROWS


1984-5

Flying Lady

Yorkshire TV

The interior of the Mill was used as the scene for the retirement of
an engineer, played by Frank Windsor (Z Cars, BBC, 1962-78 & Softly Softly, BBC, 1966-76), who blew the whole of his retirement money, buying a vintage car.


1996

Abbey National

Cinema Advertisment

The Mill was used as the backdrop to the opening scene of an advertisment
for the Abbey National, in which a worker clocked out for the last time,
and developed into a theme of him looking forward to his pension.

2000

Halifax Remembered

Dr. John A Hargreaves

VIDEO by DESIGN

Images and reminiscences of the 20th Century
Review of the recent past of Halifax and what effect the last 100 years have had on its citizens.
The momentous changes that took place in industry and commerce are retold by people who experienced them and who share with us a century of triumphs and tragedies.
Incorporated an interview with Mrs. D.M. Holdsworth, Chairman of John Holdsworth & Co Ltd.